High quality sawdust charcoal making machine carbonization furnace
Product Description
High quality sawdust charcoal making machine carbonization furnace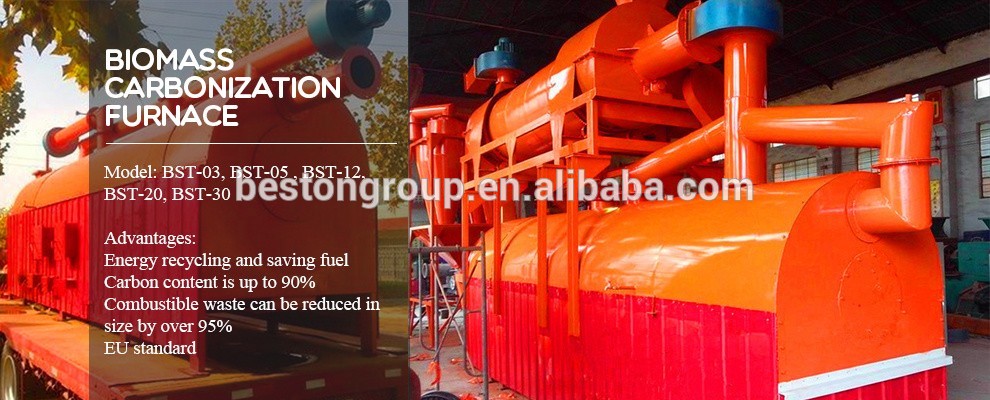 Application 
--Biomass( from urban garbage sorting) carbonization 
--Stem/cell of agriculture plants carbonization: palm leaf/shell, rice husk, cocoanut shell and etc.
--Industry papermaking scrap carbinization 
--Municipal sludge treatment 
--Soil improvement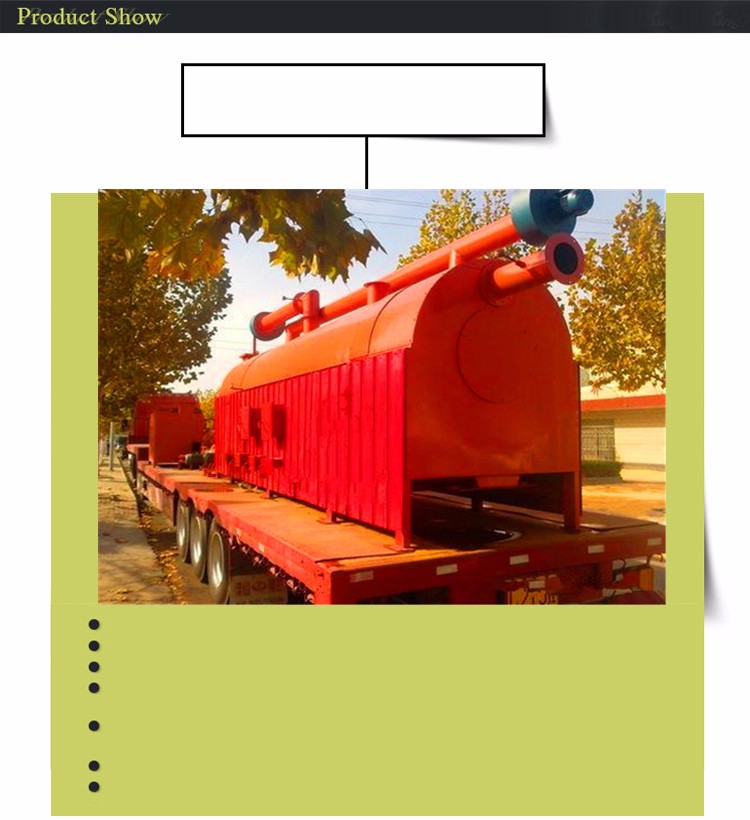 Model: BST-03, BST-05 , BST-12, BST-20, BST-30
24-hour capacity: 300kg/h, 500kg/h, 1200kg/h, 2000kg/h, 3000kg/h
Combustible waste can be reduced in size by more than 95%.
By-product of garbage carbonization process "artificial carbon" fixed carbon
content is high (about 90%)
Partial carbonization of rubbish can be activated very scalable
(can activate up to 75%).
EU standard emmission
Energy recycling and reusing design to save fuel
The Raw materials: Sawdust, Rice Hull, weeds and shells ( skin ), straw, such as biogas residue biomass, municipal solid waste, sludge, paper - making Slag, and other organic produce, etc.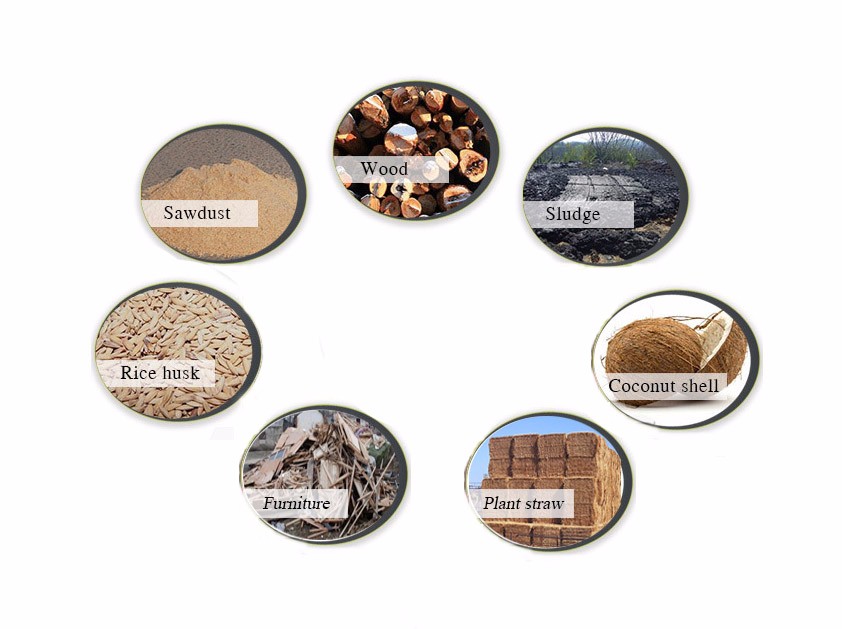 End product: After the process which includes high temperature pyrolysis, volatile gas, sulfur emission, carbon enrichment of garbage disposal technology, The end product we get is artificial carbon.
Specification:
Carbonization biomass is a waste treatment technology that uses biomass (wood chips, wood, coconut shells, rice husks, stalks of plants, shells, and sewage sludge)) as raw material, "high temperature pyrolysis gas volatile, sulfur emission, carbon enrichment" process "artificial carbon" and by-product. Biomass in the absence of air oxidation, such as situations of incomplete thermal decomposition to produce carbon and other products.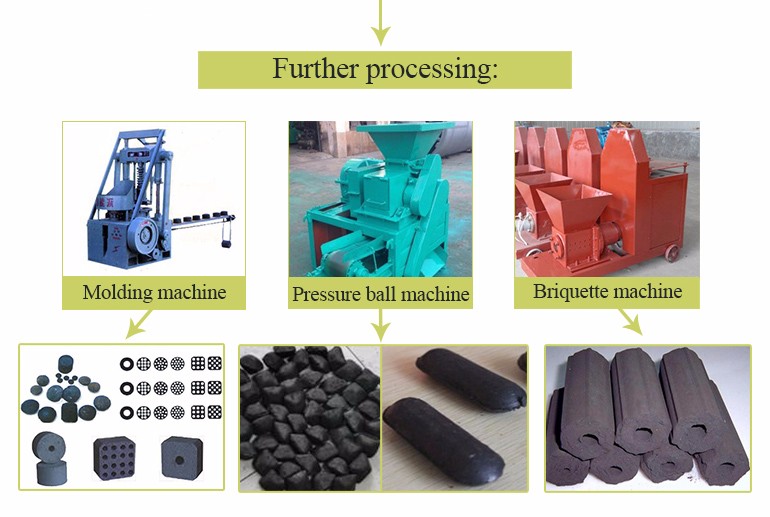 We can also supply Molding machine, pressure ball machine, and briquette machine to meet your requirements. Any other needs, please contact us, we can offer you a most suitable solution according your demands.  
Technical data
Biomass Carbonization Plant

Model

BST-03

BST-05

BST-12

BST-20

BST-30

Raw material

Sawdust, coconut shell, wood, rice husk and other biomass material/ waste sludge

Structure

Horizontal

Capacity (kg/h)

300

500

1200

2000

3000

Rotary speed of furnace

3-9 turn/ min

Power (Kw/h)

11

15

18.5

30

55

Host size (Width*Height* Length)

1000*1700*

8000mm

1300*1900*

8500mm

1600*2200*

8500mm

2200*2800*

8500mm

3000*3300*

8500mm
Drawing of an automatic plant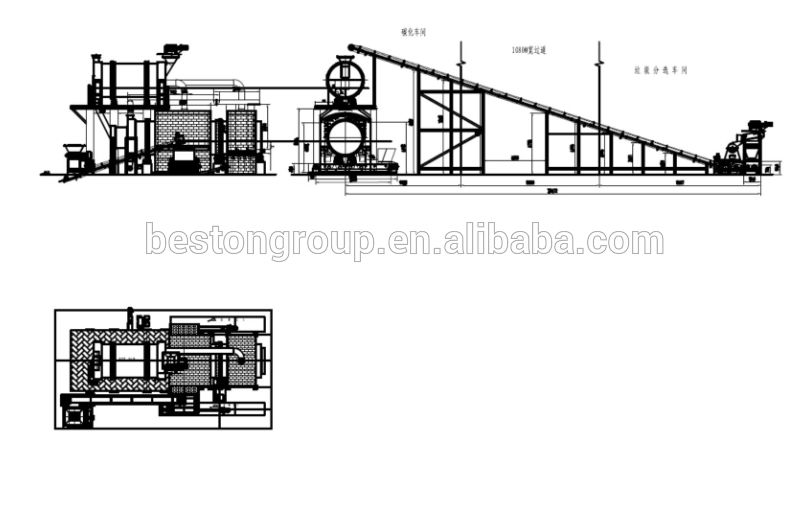 Equipment Feature
1. This machine adopts a two - tier structure design of multi - channel, mainly consist of the drying host, the host , the carbide machine. and Other accessories.
Besides, It consists of transmission parts, part of the rack, drying part, the flash layer carburizing, feeding and bulk parts, materials and cooling, gas re - burning, the Water Curtain dust removal, parts of gasifier and related piping and other devices. And according to user needs (custom component ), we could add the Walking mobile parts.
2.  First, The Structural Design of the upper and lower layers make the lower parts fully touch with the hot air Source. So we improve the heat utilization efficiency from the source based on the first step.
Second, for our second lever device, using the waste flue gas heating from carbide to flash the materials, On the basis of the original, we improve the Improved thermal efficiency again.
Third, the optimization of multi - channel integrated design, including thethe hot air source ( gasification furnace or stove ) collected exhaust channel, the outer carbide fission heat collecting channel, the inner layer of flash steam collecting channel, burning waste gas collecting channels,  make it possible for improving the utilization ratio of heating  for the third time. The three optimum utilization of the hot air, which eventually drops the temperature of exhaust below 100°C. Signed by the relevant departments, the thermal efficiency is up to 85% devices, Our user of Elias hemp plant in Xinjiang who named the machine " Flax bars carbonation artifact.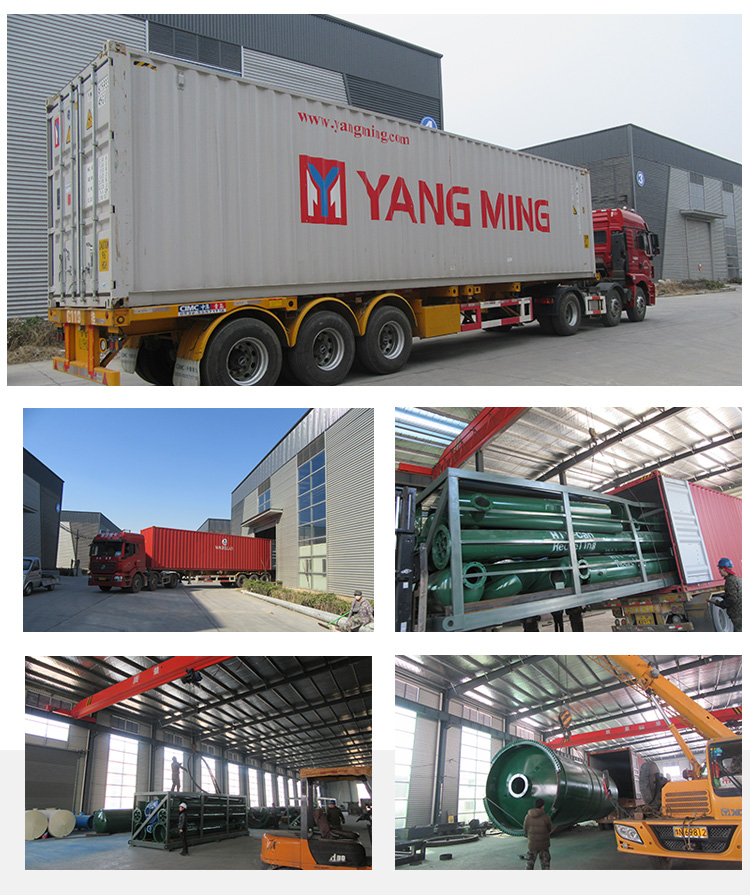 We will provide the most reliable, safest mode of transportation, in order to make machine arrived at destination timely.
Installation and training-our company will send one technician for each set of machine for guiding your installation, testing the machine and training your workers.
Successful cases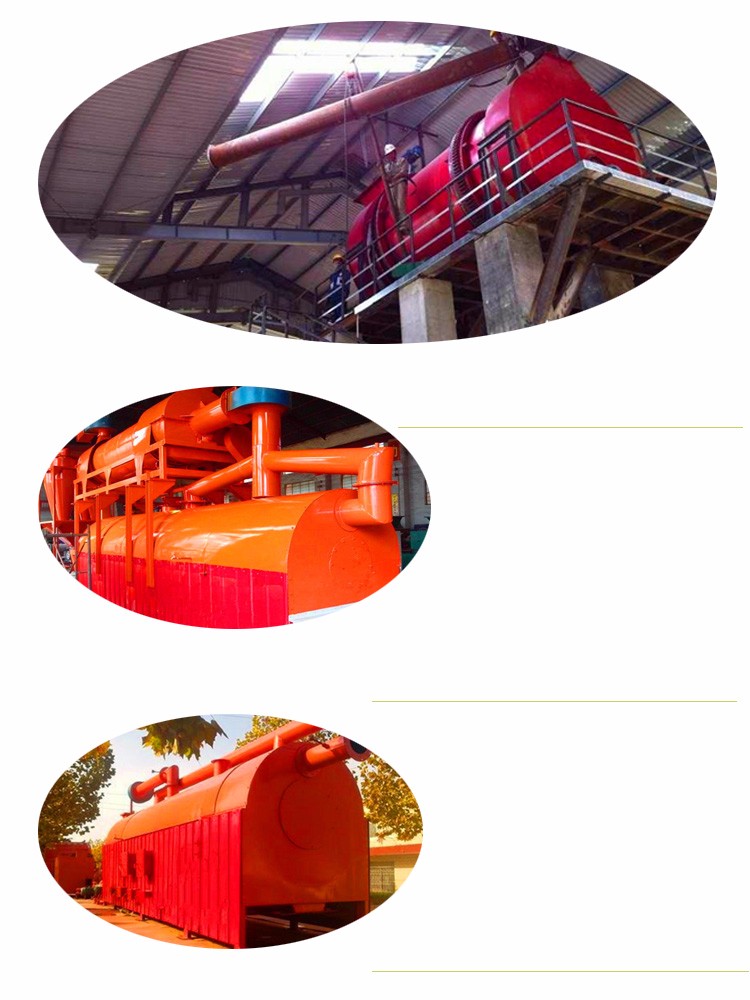 Installation plant Malaysia 2016
Installation plant Vietnam 2015
Installation plant India 2015
After Service
Delivery time- It will be 30 days after we receive the deposit.

24 hours online service.

One year warranty from the date of receiving. The warranty equipment within warranty time, facilities failure is freely repaired or replaced by our company.

According to users' needs, after deliver equipment, we can send technical personnel to train operation, maintenance.

After the expiration, seller provide spare parts at cost price.

Seller provide free lifetime technical services.

Whether it is within the warranty period, once receiving a notification service, maintenance personnel to reach the user site in 48 hours.

Regular visits, listen to users' comments and suggestions on the service quality and product quality.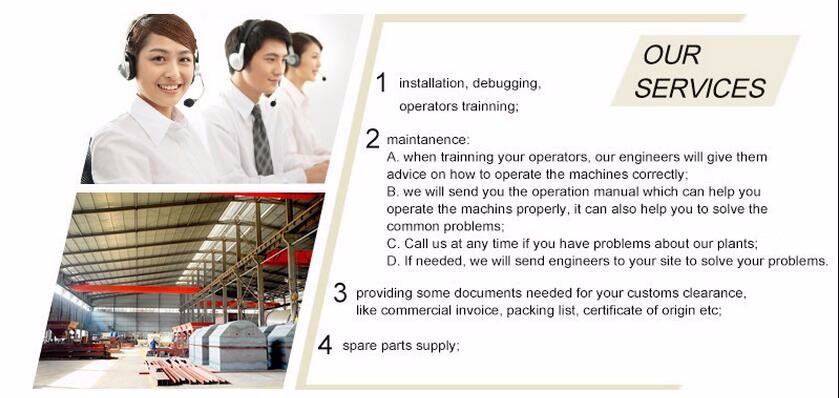 We Company aim: integrity first, quality first, customer supremacy, and thoughtful service, and constantly develop new products.
With professional services enable customers to maximize the benefits!
 About us 
Beston (Henan) machinery Co., Ltd. is an enterprise specializing in  sludge carbonization equipment,waste pyrolysis plant, oil distillation plant and carbon black processing plant. 
Having been in this field since 1998, abundant experience enable us to solve your any problems ,we promise you high-end products and first-class service.
Welcome your visit and support to our Biomass Carbonization Furnace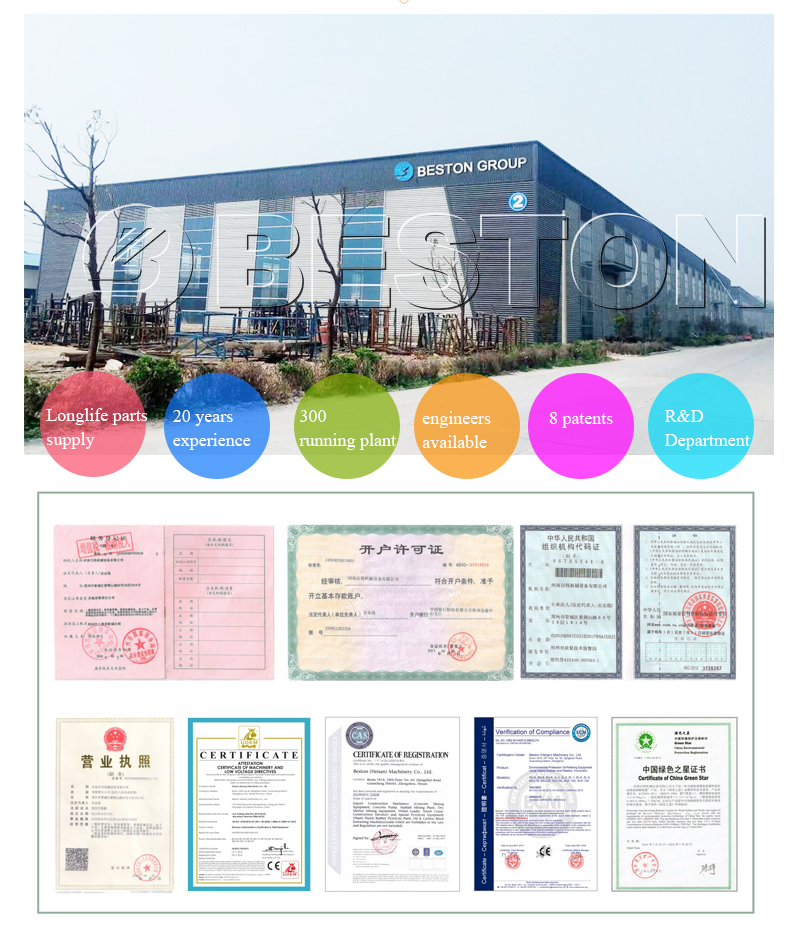 1. Where have you installed working plants?  
Place installed working plants:Vietnam, India, Malaysia, Turkey, nearby our factory , etc.
2. How soon can a visit be arranged to see a working facility as well as your production factory?
Any time we are waiting for you to see a working facility nearby our factory, sir.
3. When can we arrange a meeting or teleconference to discuss your system in detail?
Ready to arrange a meeting or teleconference to discuss details at any times.
accompany with you to visit the factory. If time rest, we can go to visit the scenic spots together.
4.Does your carbonization machine have any limitation about the water content?
  There is no limitation about water content, and it will inflrence the processing time. 
5. Have you worked with engineers in the US regarding air quality and permits?
We have got CE and ISO certificatin. Surely get permits in the US.
Dear, 
Appreciate to your kindly attention, for better quotation, Here we need confirm some basic information:

1. What is the moisture of your wood, 15% or more?
2. What is your raw materials and size of your biomass, 20mm or more?
3. The video of feedstock Ukraine sawdust and charcoal discharge for the carbonization system: https://youtu.be/ntZTftDG5mk

There is a running machine in our factory, warmly welcome you visit our factory at any time. 
Await for your fast response.
Product Categories : Biomass Carbonization Furnace