High quality coconut shell charcoal making machine plant from biomass price
Product Description
High quality coconut shell charcoal making machine plant from biomass price
Equipment features:
Combustible garbage carbonization treatment project is a combustible waste as raw materials, "High temperature pyrolysis, gas volatile, sulfur release Carbon enrichment "process made" man-made carbon "waste treatment technology. This kind of technology in the world has done more than 30 years of research and trials history. Due to the low energy consumption of this process, the equipment is relatively simple and less environmental pressures, by-product reduction clear, smoke-free free of sulphur, heavy metals and high calorific value, obviously notable features such as resources, Are being widely promoted to municipal solid waste plant vine, rural, industrial, paper wastes, industries and sectors such as municipal sludge, soil improvement! Garbage carbonization technology combustible waste can bereduced in size by more than 95% than direct landfill will save more than 80%!Put an end to the waste disposal generally exists in stacking fermentation odor emissions, As well as secondary noxious liquid leakage to the atmosphere and groundwater pollution; By-product of garbage carbonization process "artificial carbon" fixed carbon content is high (about 90%), About twice the coal (coal-fired fixed carbon content of 55%), With good flammability is a new advanced fuels, Simultaneously the partial carbonization of rubbish can be activated very scalable (can activate up to 75%), Is the ideal material for adsorption of activated carbon
Technical Details:
| | | | | |
| --- | --- | --- | --- | --- |
| Specification | Model | capacity | Main motor power | Overall dimension |
| D800 | BST-03 | 300Kg/h | 11Kw/h | 1.0×1.7×8 |
| D1000 | BST-05 | 500Kg/h | 15Kw/h | 1.3×1.9×8.5 |
| D1300 | BST-12 | 1200Kg/h | 18.5Kw/h | 1.6×2.2×8.5 |
| D1600 | BST-20 | 2000Kg/h | 30Kw/h | 2.2×2.8×8.5 |
| D2000 | BST-30 | 3000Kg/h | 55Kw/h | 3.0×3.3×8.5 |
| D2600 | BST-100 | 10000kg/h | 200kw | D3000×12000  |
Carbonized rice husk refers to rice husk after heated to the point of ignition temperature below, so that its substance is formed by the incomplete combustion of charcoal. It has the characteristics of light weight and low thermal conductivity.
Industrial use
Carbonized rice husk refers to rice husk after heated to the point of ignition temperature below, so that its substance is formed by the incomplete combustion of charcoal. It has the characteristics of light weight and low thermal conductivity.
 Process flow diagram: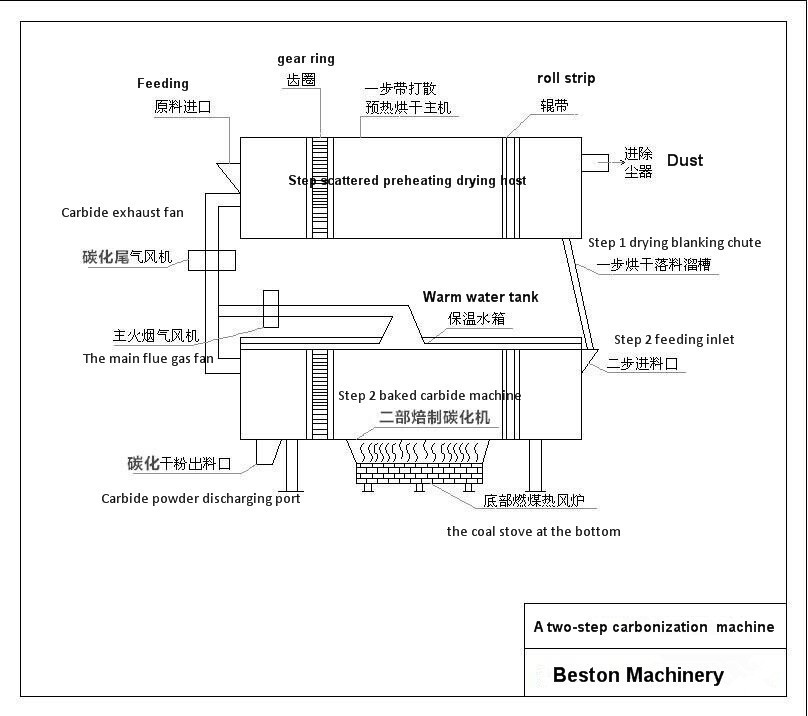 The Raw materials and end products:
Sawdust, Rice Hull, weeds and shells ( skin ), straw, such as biogas residue biomass, municipal solid waste, sludge, paper - making Slag, and other organic produce, etc.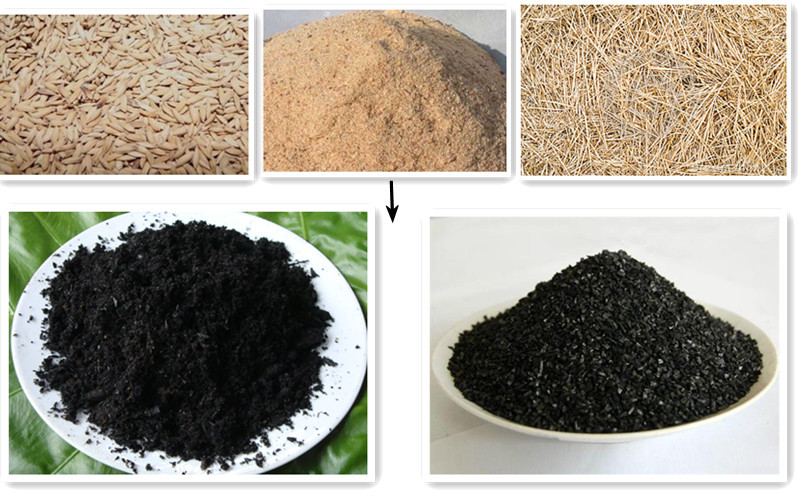 The real photos of our machine: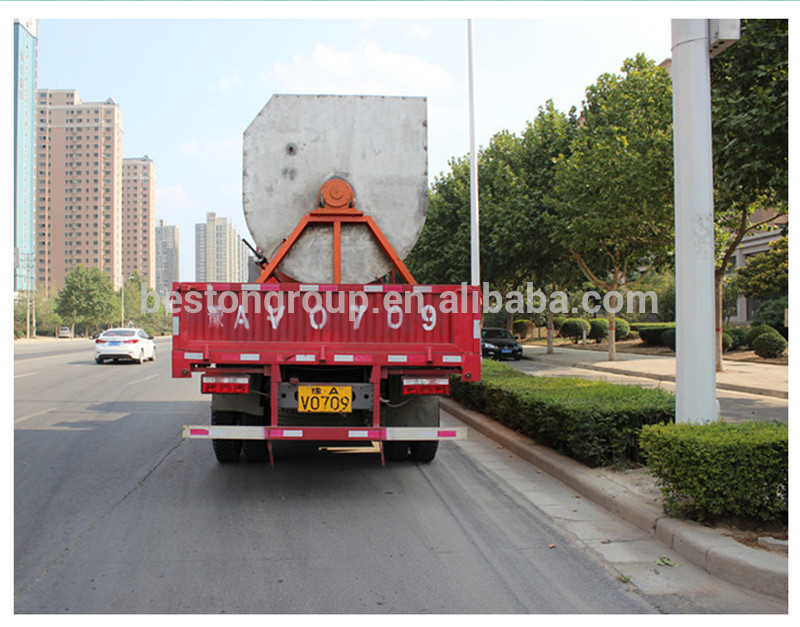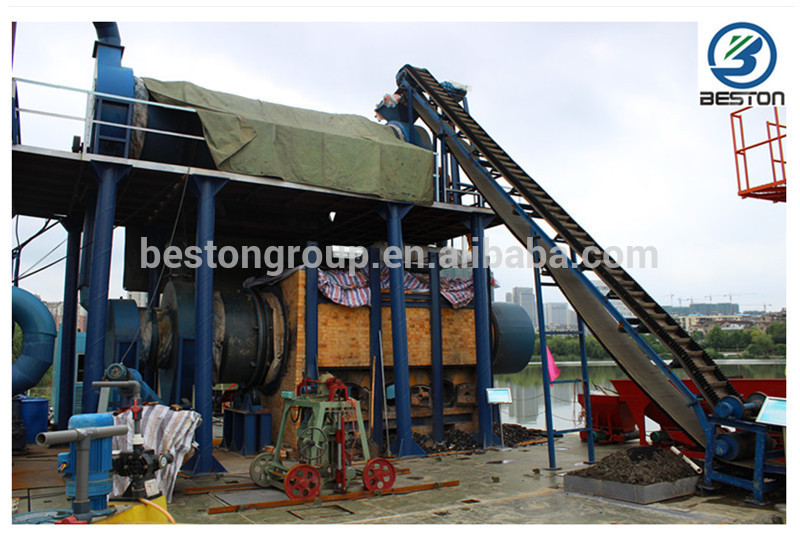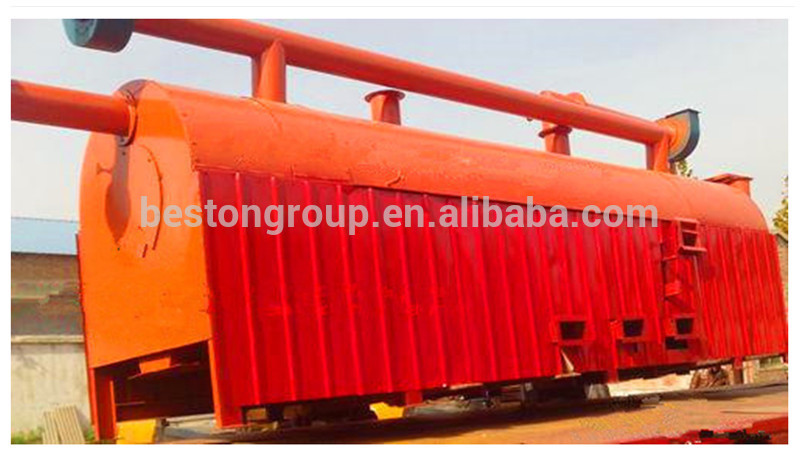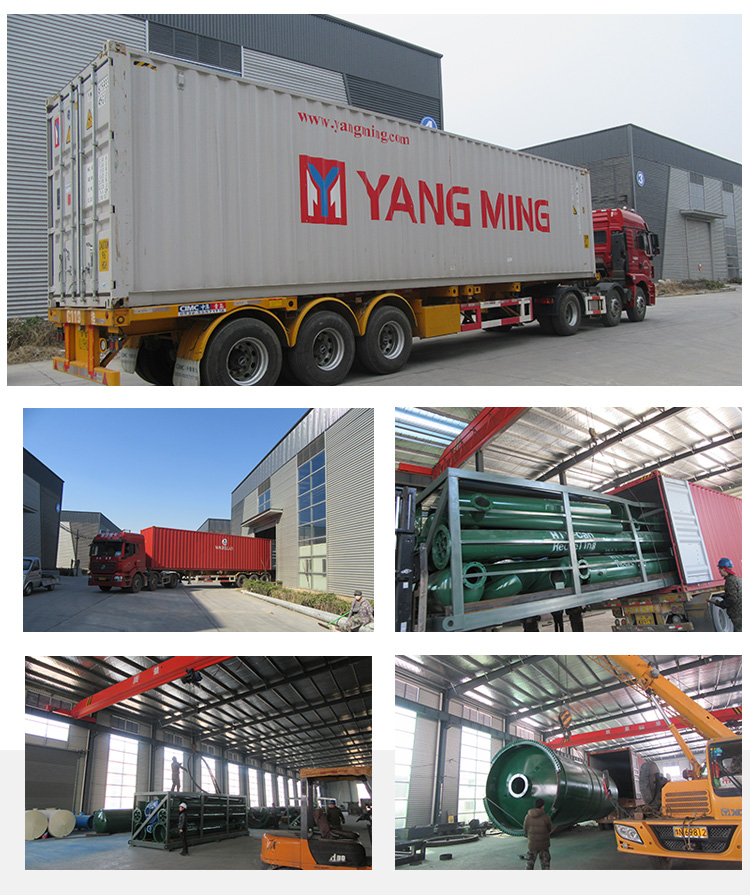 We will provide the most reliable, safest mode of transportation, in order to make machine arrived at destination timely.
Installation and training-our company will send one technician for each set of machine for guiding your installation, testing the machine and training your workers.
Delivery time- It will be 30 days after we receive the deposit.

One year warranty from the date of receiving. The warranty equipment within warranty time, facilities failure is freely repaired or replaced by our company.

According to users' needs, after deliver equipment, we can send technical personnel to train operation, maintenance.

After the expiration, seller provide spare parts at cost price.

Seller provide free lifetime technical services.

Whether it is within the warranty period, once receiving a notification service, maintenance personnel to reach the user site in 48 hours.

Regular visits, listen to users' comments and suggestions on the service quality and product quality.
About us 
Beston (Henan) machinery Co., Ltd. is an enterprise specializing in  sludge carbonization equipment,waste pyrolysis plant, oil distillation plant and carbon black processing plant. 
Having been in this field since 1998, abundant ecperience enable us to solve your any problems ,we promise you high-end products and first-class service.
Welcome your visit and support to our Biomass Carbonization Furnace 
Hope to have the chance to cooperate with you in the near future.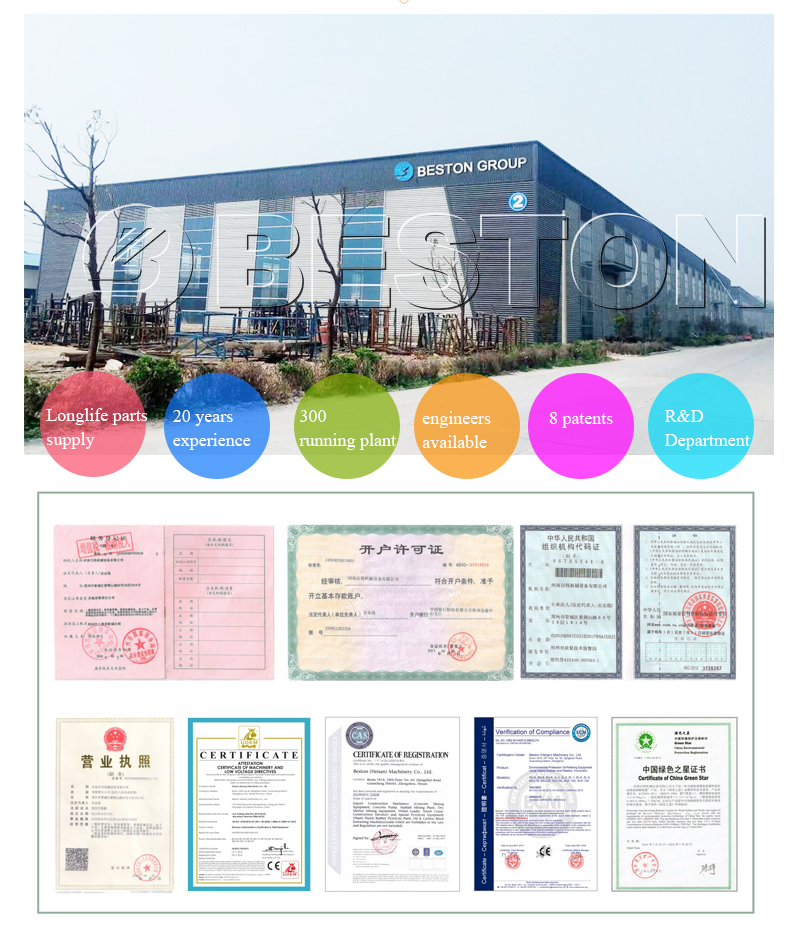 ♦Over 15 years experience in waste rubber/plastic/tyre/medical waste pyrolysis industry and used oil refinery industry
♦Over 300 running plant all over the world maket, for instance: India, Malaysia, Philippines, Indonesia, Thailand, vietnam, Pakistan, South Africa, Jordan, turkey, Poland, Russia, Canada, South Koran, Peru, Colombia...
♦Experienced engineers is available for any problems you may meet.
♦R&D Department to insure the constantly research the new technology to improve the quality and oil yield efficiency.
♦we promise provide lifelong maintainance and parts supply service for customers.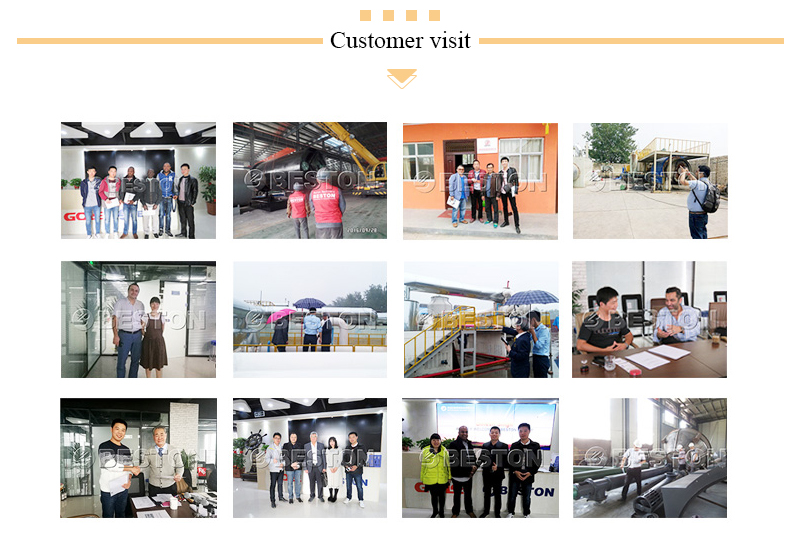 1). What is your business model, Trading company or factory?
We are a factory since 1998, with 16 years' experience in this industry. all our machines are manufactured by ourselves, factory direct sales. We have our own professional technology team and skilled after-sales service department.
2) What is the carbonization rate?
 This carbonization rate can reach to 95%.
3). Could you offer complete Urban Biomass Garbage machine production line?
W e will provide you everything except the civil work.
4). Where is your factory located? How to get there?
We are located in Zhengzhou city, Henan province, China, which is near to the airport-- Zhengzhou Xinzheng International Airport (the Airport Code is CGO), from the airport to our office, it just need 35 minutes.
We will pick you up at the airport, book the hotel in advance for you if you need, accompany you visit our running machine and make a demonstration.
5). How can we distinguish different quality of rice husk?
Depending on the content of C in market prices also varies:
Distinguish different quality of Carbonized rice husk can use our hands rub, if they are broke into granular solid black, and do not knead dough, gritty, it means that the quality of Carbonized rice husk is very good.
After rubbing, if they become ashen, it tells us that the quality is quite low. It will play an adverse impact on the steel if we used in steel making.
High quality coconut shell charcoal making machine plant from biomass price
Product Categories : Biomass Carbonization Furnace