newest unique design household waste incinerator
Product Description
newest unique design  household waste incinerator
Equipment features:
Combustible garbage carbonization treatment project is a combustible waste as raw materials, "High temperature pyrolysis, gas volatile, sulfur release Carbon enrichment "process made" man-made carbon "waste treatment technology. This kind of technology in the world has done more than 30 years of research and trials history. Due to the low energy consumption of this process, the equipment is relatively simple and less environmental pressures, by-product reduction clear, smoke-free free of sulphur, heavy metals and high calorific value, obviously notable features such as resources, Are being widely promoted to municipal solid waste plant vine, rural, industrial, paper wastes, industries and sectors such as municipal sludge, soil improvement! Garbage carbonization technology combustible waste can bereduced in size by more than 95% than direct landfill will save more than 80%!Put an end to the waste disposal generally exists in stacking fermentation odor emissions, As well as secondary noxious liquid leakage to the atmosphere and groundwater pollution; By-product of garbage carbonization process "artificial carbon" fixed carbon content is high (about 90%), About twice the coal (coal-fired fixed carbon content of 55%), With good flammability is a new advanced fuels, Simultaneously the partial carbonization of rubbish can be activated very scalable (can activate up to 75%), Is the ideal material for adsorption of activated carbon.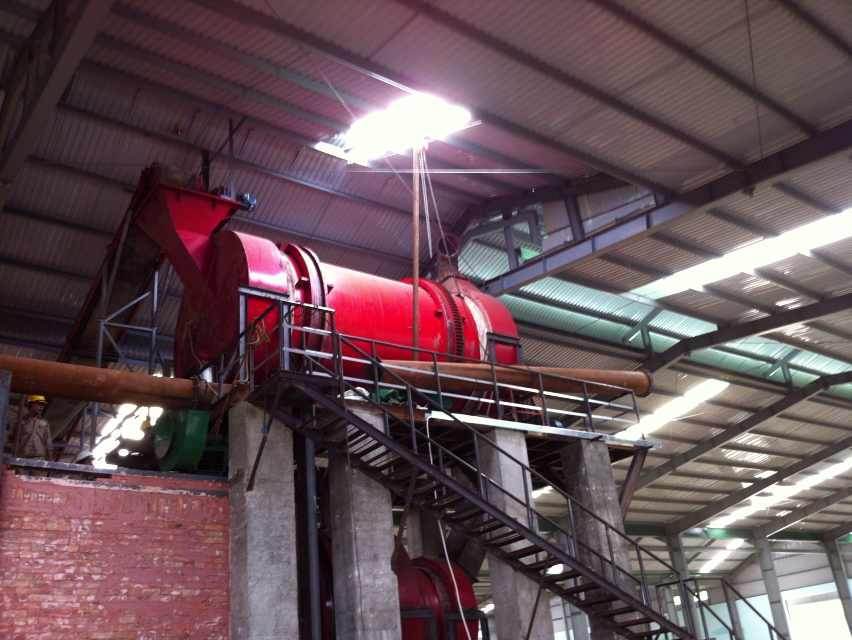 General introduction of the carbonizing equipments
1.  This machine adopts the design of double layer and multi passage. It is mainly composed of drier, carbonizing machine and other auxiliary equipments. Among these parts, there are other parts like driving, rack, drying, flash steaming, carbonizing, feeding, discharging, cooling, exhaust gas recycling, wet dust catcher, gasification furnace and related pipes. We can equip the machine with chasis if customer needs it (customer-made parts). 
2.  Double-layer design make the lower part of the machine contact the hot air as much as possible, this design is helpful to raise the heat utilization efficiency from the beginning. The lower layer equipments utilize residue heat in carbonizing gas to flash steam the materials. This is the second stage to raise the utilization efficiency of heat. The optimized and concentration multi-pipe design of hot exhaust gas (generated from gasifier or hot blast heater) recycling pipe, carbonizing and fission heat collecting pipe, flash steaming steam collecting pipe, combustion emission collecting pipe can raise the heat utilization efficiency in the third time. After three time of optimized usage of heat, the temperature of the emission gas is below 100 centigrade. Under the inspection of related institutes, the heat use ratio of our equipment is over 85%. Our equipment is called perfect flax stem carbonizing equipment by Erie flax factory in Xinjiang province.  
3. The upper part of our machine adopts edge driving and centre screening double drive and stepless speed change structure. The structure can compulsorily change the materials into fine powder in the flash steaming and drying chamber, so the materials can fully contact the hot air, and the controllable rotating speed enable us to control the contacting time of materials and hot air. Then we can get material with the same humidity although their initial humidity is different. After drying, the material will automatically flow into the carbonizing machine in the lower part. The upper part of the machine is for drying material and the lower part is for carbonizing the material.
4.  Usually, we use one equipment to supply hot air ( it can be hot blast stove, the fuel can be coal, branch, biomass pellet, coal gas or other combustible gas; it can also be biomass gasifier, burner and coal spray machine etc.), on one hand, we dry raw materials by using hot exhaust gas and hot air from carbonizing chamber; on the other hand, we use hot air carbonize raw material directly. For undeveloped area, we can use simple single-layer carbonizing machine to process materials with the humidity less than 10% so we can save some investment.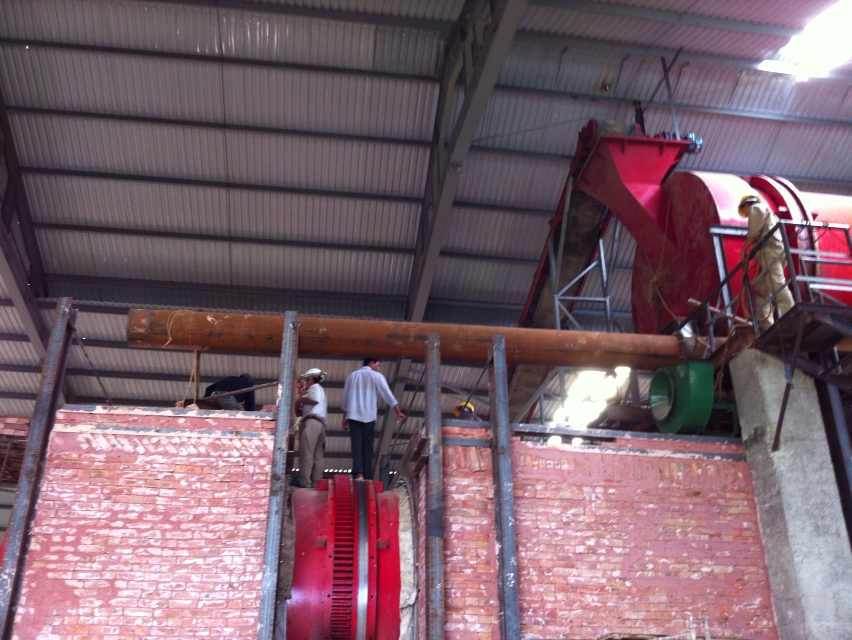 Technical Details:
Biomass Carbonization Plant

Model

BST-03

BST-05

BST-12

BST-20

BST-30

Raw material

Sawdust, coconut shell, wood, rice husk and other biomass material/ waste sludge

Structure

Horizontal

Capacity (kg/h)

300

500

1200

2000

3000

Rotary speed of furnace

3-9 turn/ min

Power (Kw/h)

11

15

18.5

30

55

Host size (Width*Height* Length)

1000*1700*

8000mm

1300*1900*

8500mm

1600*2200*

8500mm

2200*2800*

8500mm

3000*3300*

8500mm
Processing range:
The industries and departments of urban living garbage, rural plant vines, industrial papermaking waste, municipal sludge treatment, soil improvement and so on.
Process: After the process which includes high temperature pyrolysis, volatile gas, sulfur emission, carbon enrichment of garbage disposal technology, The end product we get is artificial carbon.
Process flow diagram: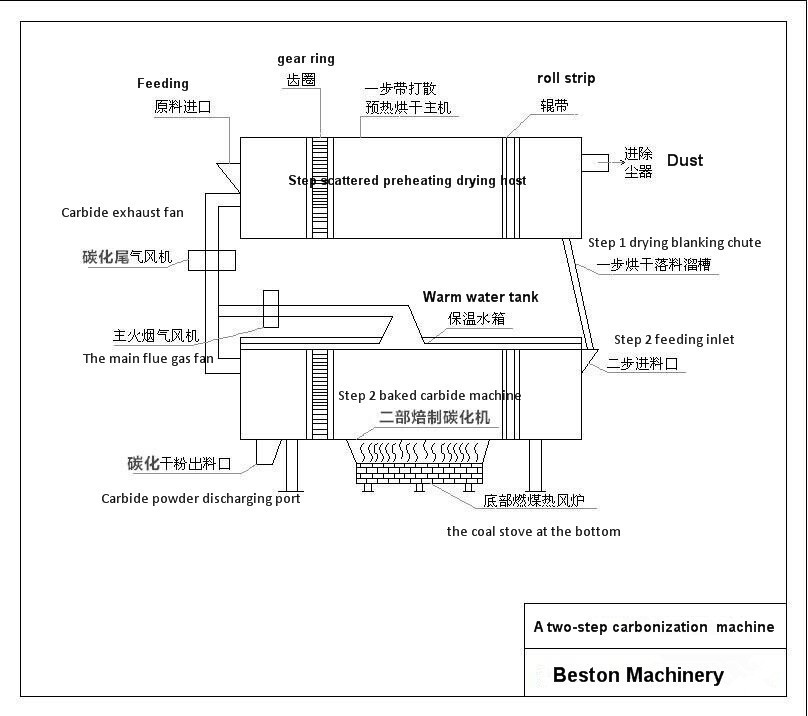 Advantage:
1. As we all know, the direct landfill of the urban waste not only endangers environment, brings hazard to human health but also results in huge waste of resources.
2. The technology of Garbage carbonization could reduce the volume of the combustible waste more than 95%, Compared with Compared with the method of directly landfill, it even could save the occupied area more than 80%.
3. Also put an end to common deposit stacking fermentation of odor emissions from the garbage heap, and the secondary pollution to the atmosphere and groundwater from the harmful liquid leakage.
4. After the carbonization treatment of the garbage, the byproduct is artificial carbon, which owns fixed higher carbon content ( about 90% ), Compared with the general coal, it is about twice its carbon content ( usually fixed carbon content of coal is 55% ). Besides, it is a new type of high-grade fuel with good flammability, While some of the garbage after carbonization have very strong activation( it can be activated up to 75% ), There is no doubt that it is an ideal material for Activated Carbon adsorption.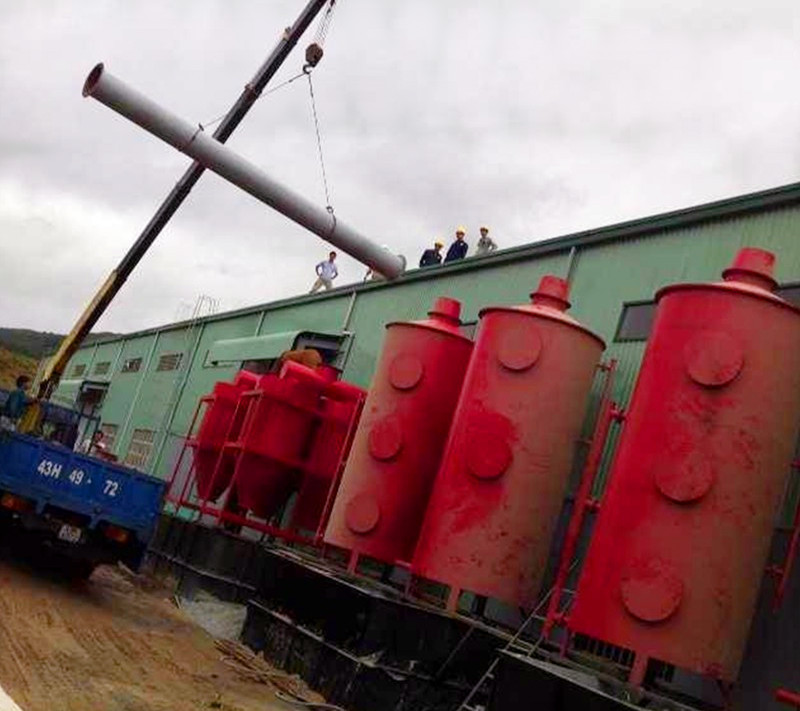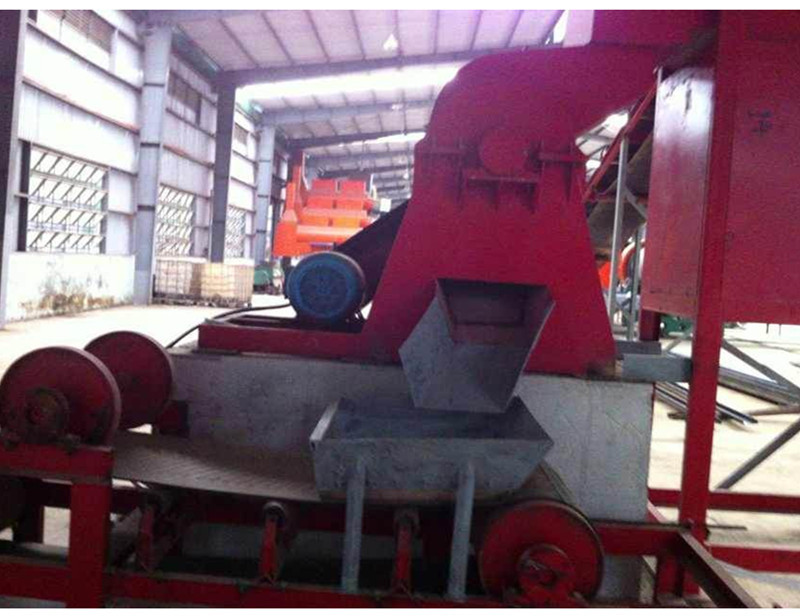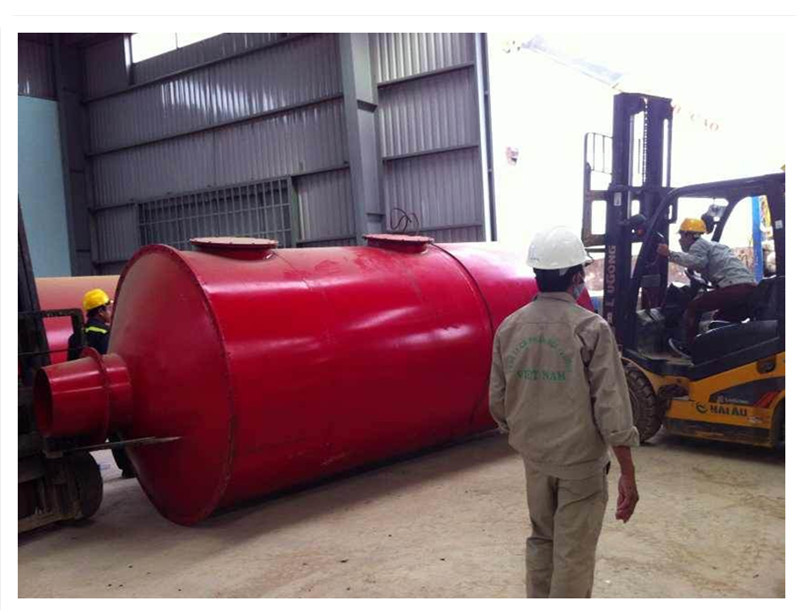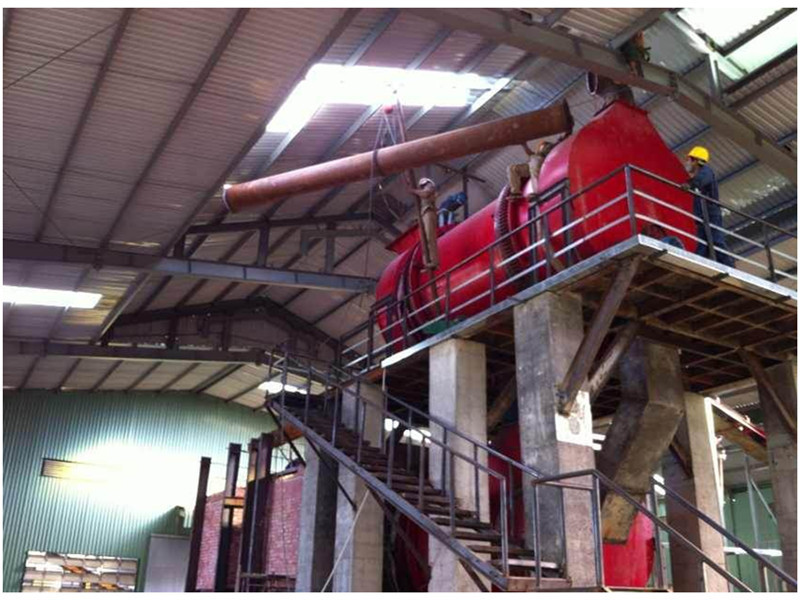 Products delivery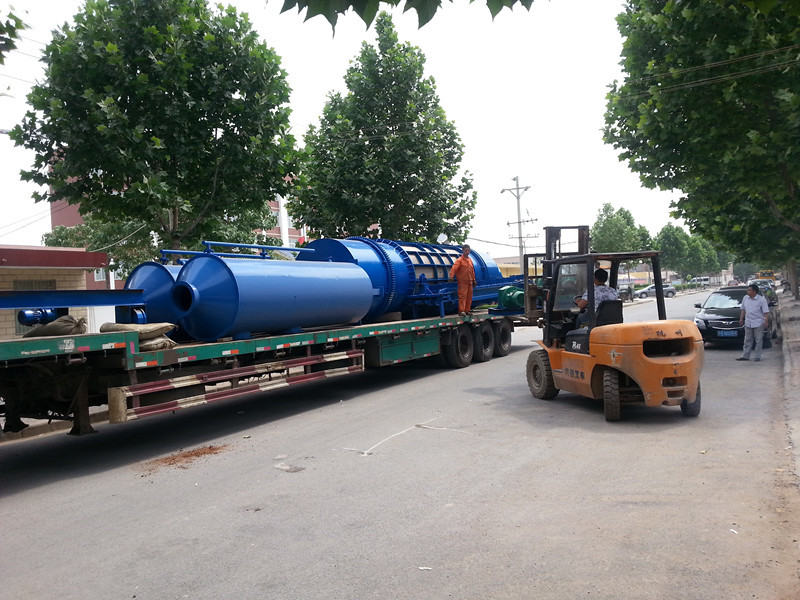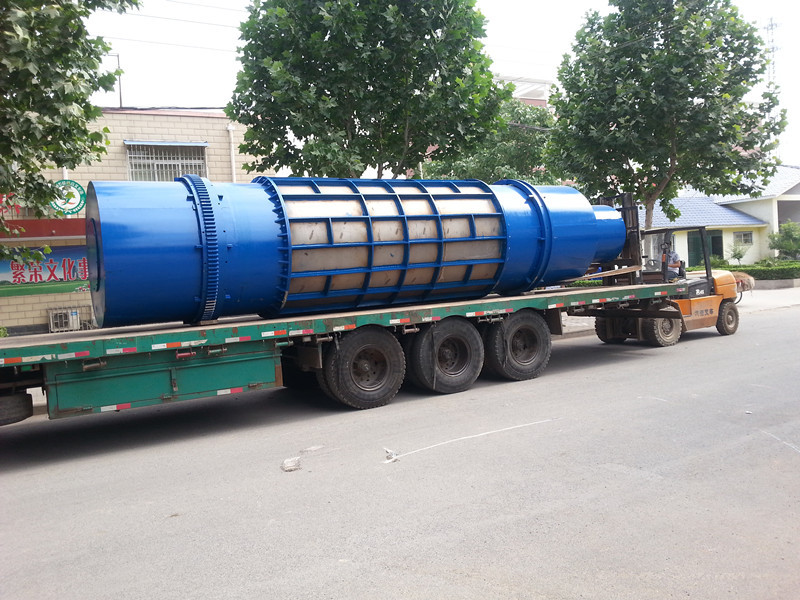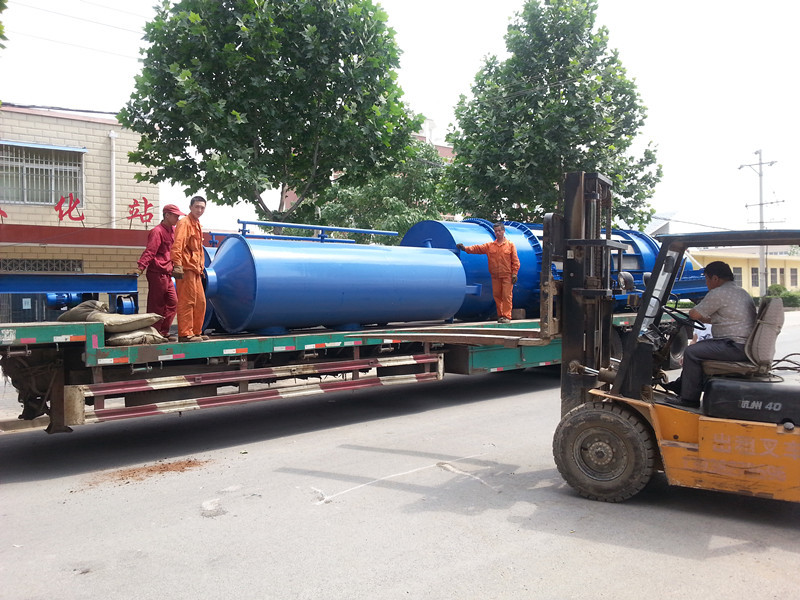 Product Categories : Carbon Black Processing Machine