lucrative investment,Continuous waste motor oil re-refining equipment Since1998
Product Description
 lucrative investment,Continuous waste motor oil re-refining equipment Since1998 
3D Drawing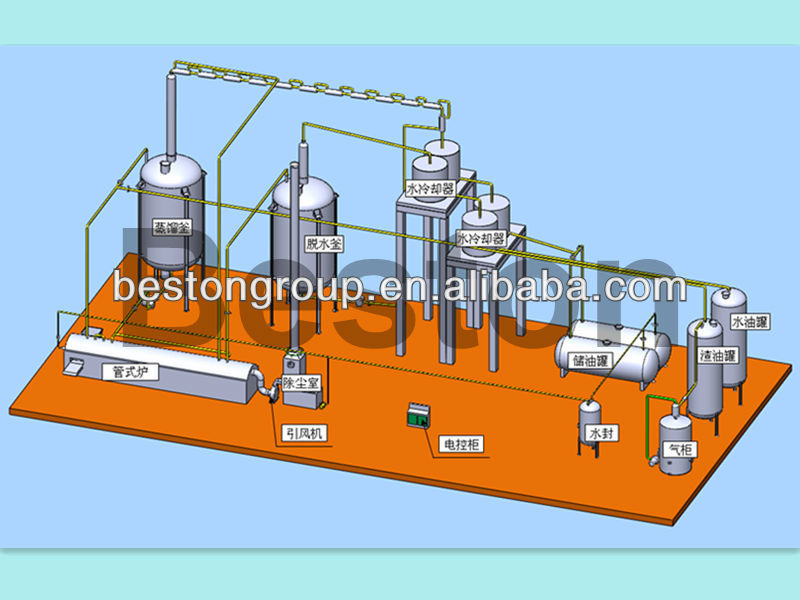 Flow Chart 

Technical Sepcification 
Type

BZJ-06

BZJ-10

BZL-25

BZL-50

BZL-100

Raw material

Waste Oil, Raw oil, Waste Engine Oil, Waste Raw Oil, Waste Washing Oil

Structural form

Vertical belt tower

Size of reactor(mm)

(1600*4400)mm

(2200*5100)mm

(3000*5000)mm

(3600*6000)mm*2

(3600*6000)mm*2

24-hour Capacity

6T

10T

25T

50T

100T

Rate of oil yield

70%-80%

70%-80%

90%

90%

90%

Power

20.0 KW

20.0 KW

38.0 KW

50.0 KW

80.0 KW

Working form

Intermittent operation

Intermittent 

operation

Continuous operation

Continuous 

operation

Continuous 

operation

Heating mode

Hot air

Hot air

Hot air

Tubular heater

Tubular heater

Material of reactor

Q245R/Q345R boiler plate

Heating material

Coal, charcoal, fuel gas, fuel oil

Thickness of reactor

16mm

Rotate speed of reactor

0.4-0.8 turn/minute
  Main Features  
Main Technical Characteristics
1. The key unit adopts vacuum catalytic cracking technology and chemical extraction technology.
2. There is complete equipment equipped for environmental protection, e.g. waste gas burner and flue gas dust collecting room.
3. Adopt simple chemical method; eliminate the colour and peculiar smell of products.
4. The output capacity of pure raw oil is less than 80% of black motor oil recycling plant .
5. The design of unit is reasonable, the manufacturing process is advanced, the operation is highly automatic and the safety facilities are complete.
6. Have multiple purposes.
 Domestic initiation
a. The complete set of unit produces no smoke and smell with favourable effects of environmental protection.
b. The pressure release device operates through water circulation, which greatly improves the security of the system.
c. The release of pressure during the production dramatically increases the output within certain time and meanwhile improves the quality of oil from black motor oil recycling plant .
d. The heating system adopts hot air heating technology, which improves the safety performance of production and heating efficiency.
e. High efficiency fuel gas heating system. When the heated gas reaches 150 during refining, a large amount of gas will be generated: through methane to butane, which cannot be liquefied under normal temperature. A   large quantity of energy will be generated after these gases fully burn within a specially designed gas burner. Then energy will be saved greatly.
The total production consumption ZL-2 of  black motor oil recycling plant
1. Power: 120kw/hour in total (but it is not every device start at the same time).
2. Cooling circuit water: 50m3/hour in total (the water can be recirculated and the more the water flow, the better the cooling down).
3. Fuel for heating:
    30——40KGcoal for processing one ton raw oil for average.
4. Space for machine: 3000----3500(the smallest square ).
Advantage:
1.Unique technology for increasing the oil output (the oil yield is not less than 90% when the water by extraction is less than 5%);
2.Reducing the fuel consumption (20 kg diesel for each ton of wast oil) and preventing coked.
   durning the processing with high tech pyrolysis oil fefining 3.we are good at reducing the sulfur, cloud point and color of the oil, which can be provided separately with additional cost.
Company Pomise:
There is complete aftersale service for series of unit from out company. The warranty period of the main part of unit is 1 year, which completely eliminates customers' worries.
Real Pictures of  black motor oil recycling plant
General Production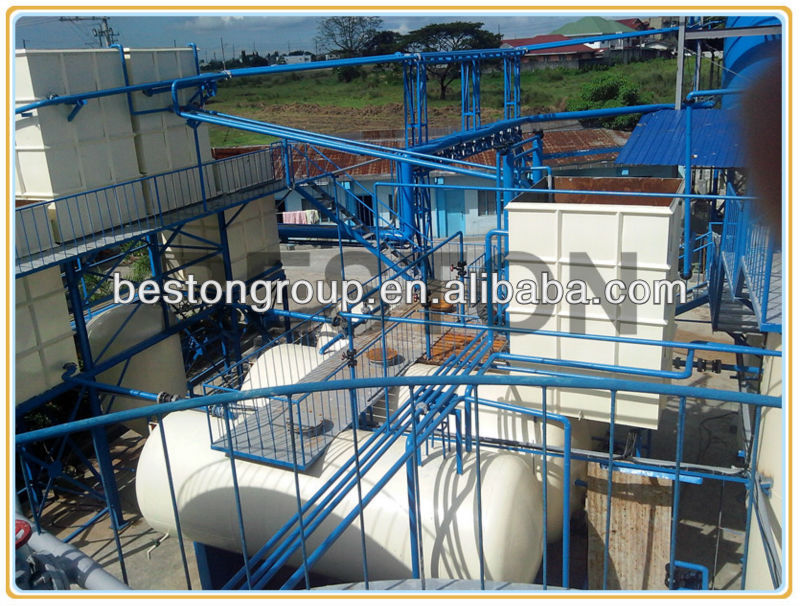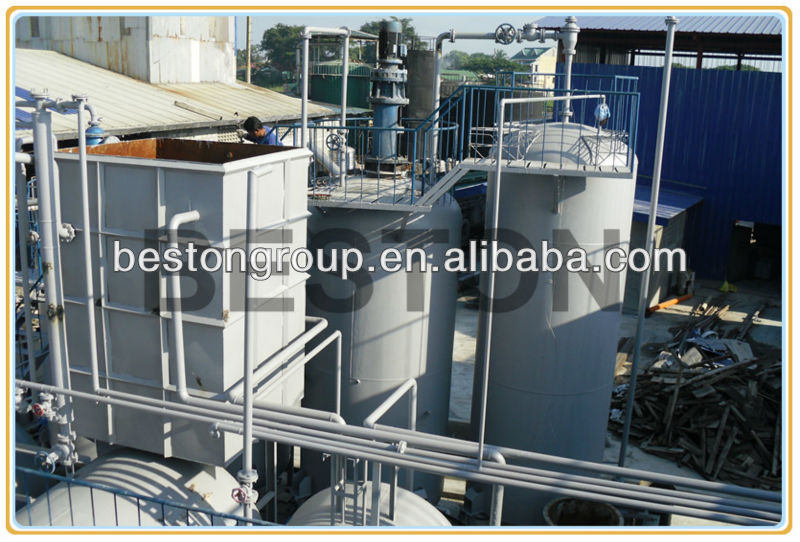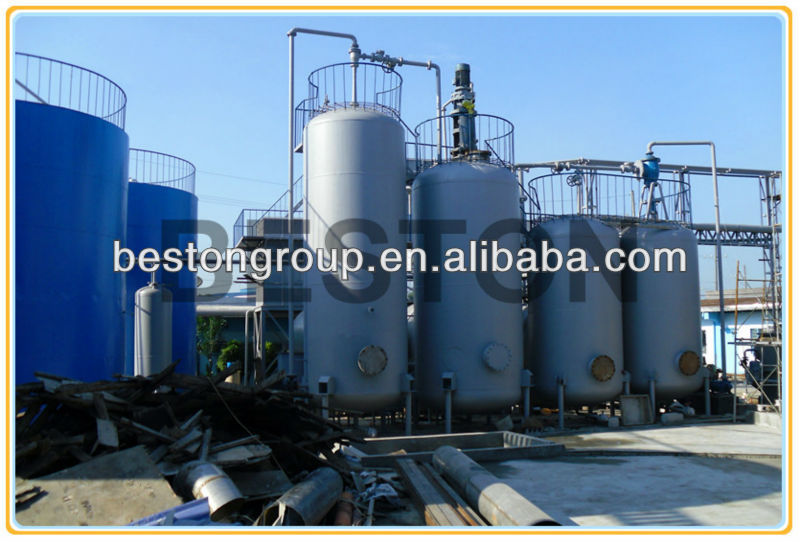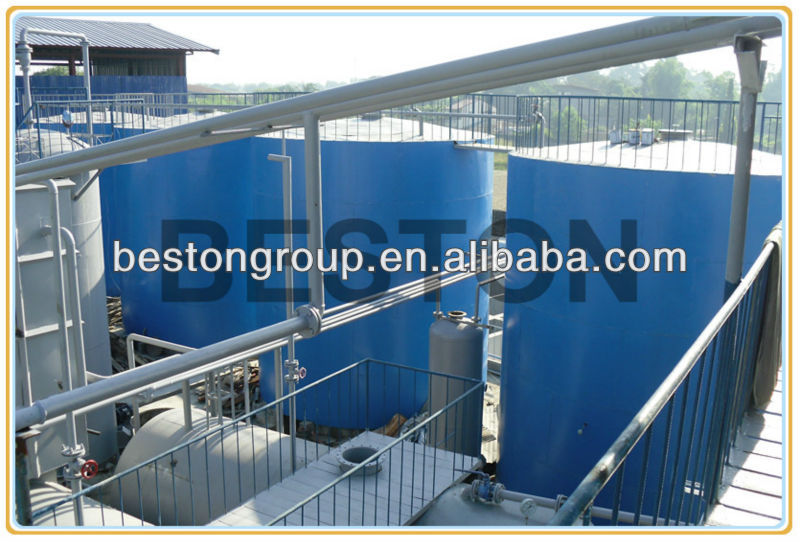 lucrative investment,Continuous waste motor oil re-refining equipment  Since1998
Welcome to contact us if you need more information.
Product Categories : Oil Distillation Machine