High efficiency oil refinery crude oil refinery machine with CE ISO
Product Description
High performance efficiency oil refinery crude oil refinery machine with CE ISO


1, The data sheet:
Type

BZJ-06

BZJ-10

BZL-25

BZL-50

BZL-100

Raw material

Waste Oil, Raw oil, Waste Engine Oil, Waste Raw Oil, Waste Washing Oil

Structural form

Vertical belt tower

Size of reactor(mm)

(1600*4400)mm

(2200*5100)mm

(3000*5000)mm

(3600*6000)mm*2

(3600*6000)mm*2

24-hour Capacity

6T

10T

25T

50T

100T

Rate of oil yield

70%-80%

70%-80%

90%

90%

90%

Power

20.0 KW

20.0 KW

38.0 KW

50.0 KW

80.0 KW

Working form

Intermittent operation

Intermittent 

operation

Continuous operation

Continuous 

operation

Continuous 

operation

Heating mode

Hot air

Hot air

Hot air

Tubular heater

Tubular heater

Material of reactor

Q245R/Q345R boiler plate

Heating material

Coal, charcoal, fuel gas, fuel oil

Thickness of reactor

16mm

Rotate speed of reactor

0.4-0.8 turn/minute
2, The flow chart:

3, The 3D drawing: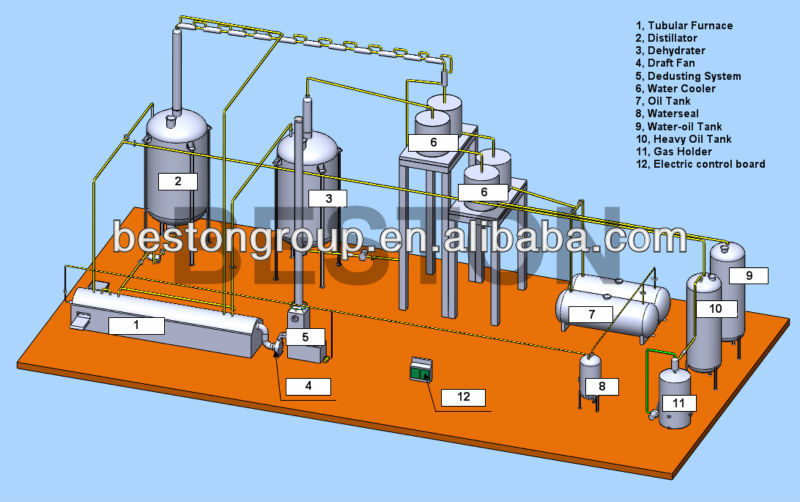 4, The advantages:
a. Continuous operating for 90 days without coking. 
b. Latest tubular heating system which can save fuel 20--30%.
c. All sealed and auto feeding and slag discharging system, available in 350degree temperature condition. 
d. This model is for processing waste engine oil into diesel oil. 
e. The output should be above 75%, water percent affect the data obviously.
==The running oil refining production line in Philippines: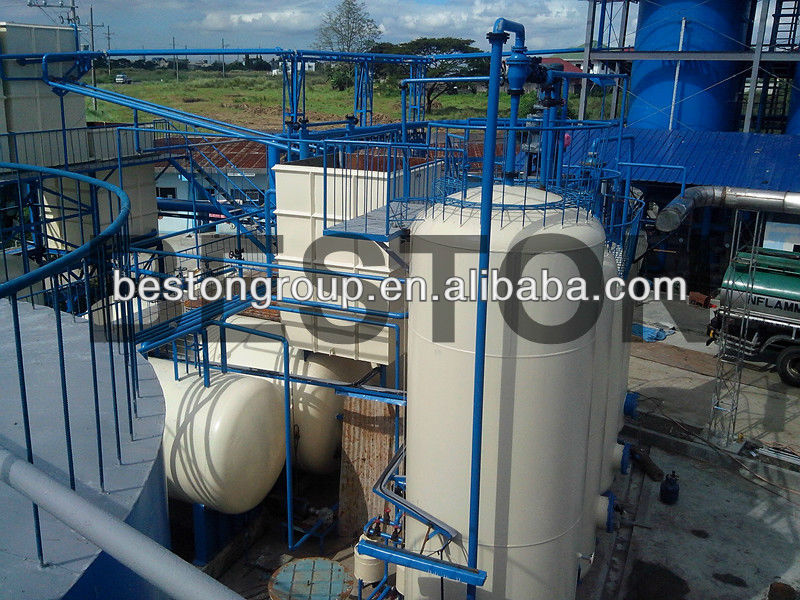 ==The running oil refining production line in wuhu: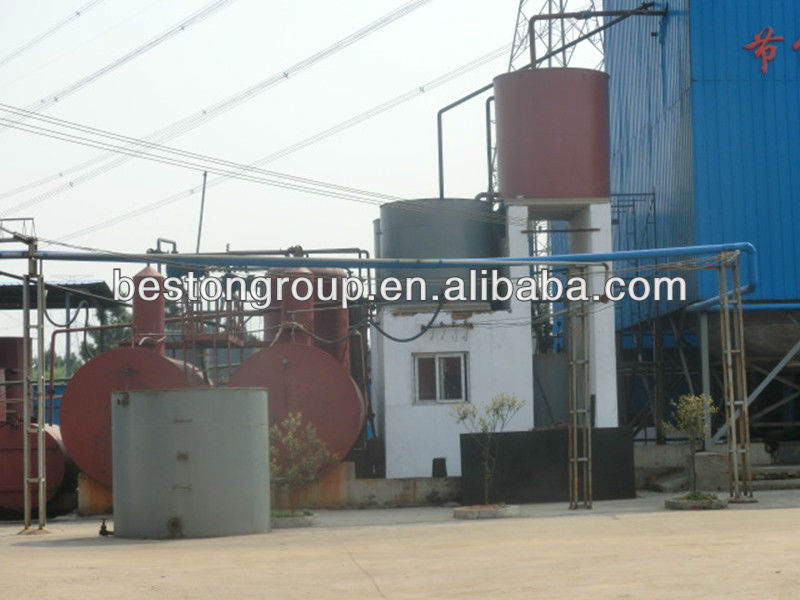 5, About the end product:
The end product can be gasoline, diesel, kerosene, gas and heavier fuel oil when the raw material is crude oil, and also can be renewable lubricating oil and heavier fuel oil. The capacity of distillation machine ranges from 25 tons per day to 100 tons per day.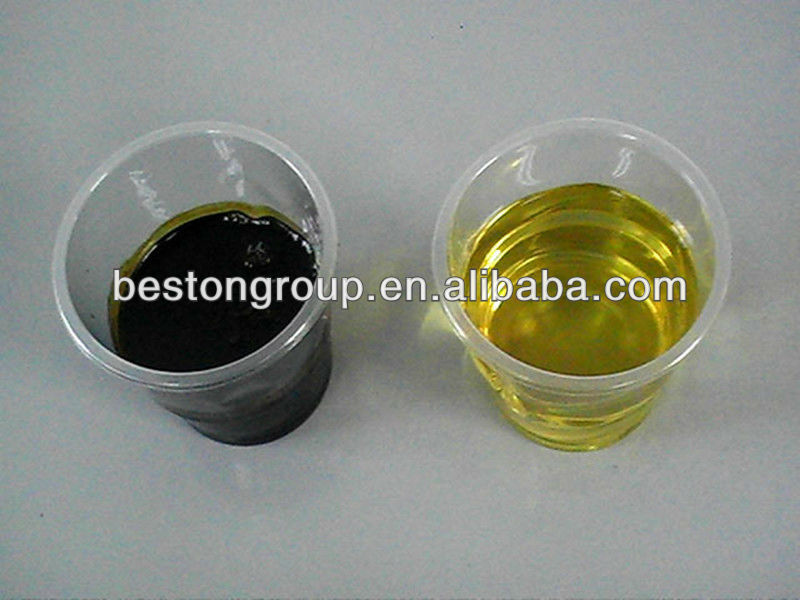 6, About the consumption of production:
a. Power: 138kw/hour in total (but it is not every device start at the same time). 
b. Cooling circuit water: 50m3/hour in total (the water can be circulatory and the faster the water flow, the better the cooling down effect).
c. Fuel for heating: 
30—40KG coal is needed on average, processing one ton raw oil. 
20—30KG diesel is needed on average, processing one ton raw oil.
d. Space for machine: 3000----3500m2 (the smallest space).
e. Workers: 4 to 6 workers which can be divided by two groups.
7,Service after sale:
a. Delivery time- It will be 3 months after we receive the deposit.
b. Installation and Training-Our company will send one technician for each set of machine for guiding your installation, testing the machine and training your workers. And the charge will be USD1500. The installation period shall be 2 months; otherwise, you have to pay extra salary for the technician with the price of USD80.00 per day. And the round tickets and accommodation shall be taken by customer.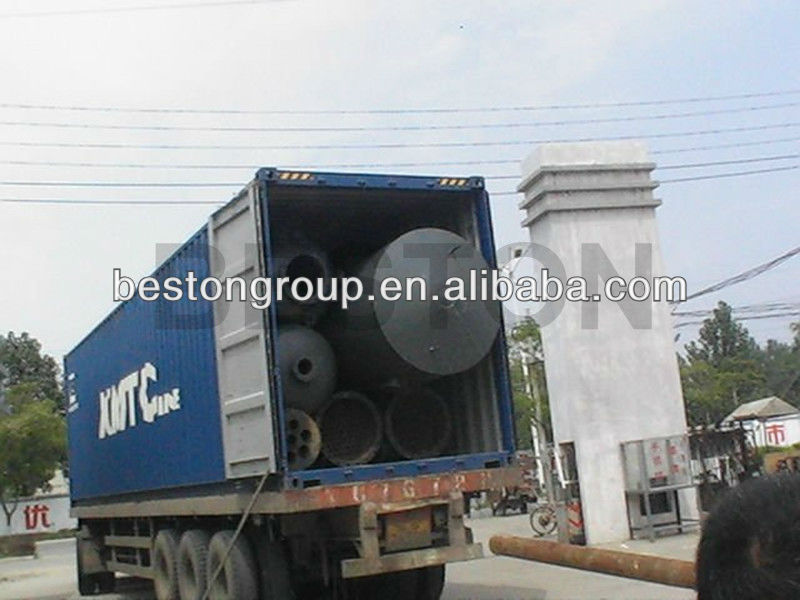 High efficiency equipment of oil refinery capacity 25 tons per day.
Product Categories : Oil Distillation Machine