High profits waste tire pyrolysis to carbon black,fuel,steel wire machine
Product Description
High profits waste tire pyrolysis to carbon black,fuel,steel wire machine
BLJ-10 waste tyre/plastic/rubber Pyrolysis Plant with capacity 10 T/D,  equipmented with safety device(alarm for over temperture and pressure, auto pressure releasing system, extra gas recycling system, fire fighting decvice) and advaced dedusting system(dust chenical removing tank, ceramic ring filtering system and alkali sprayers), which will guarantee safety and no pollution in production.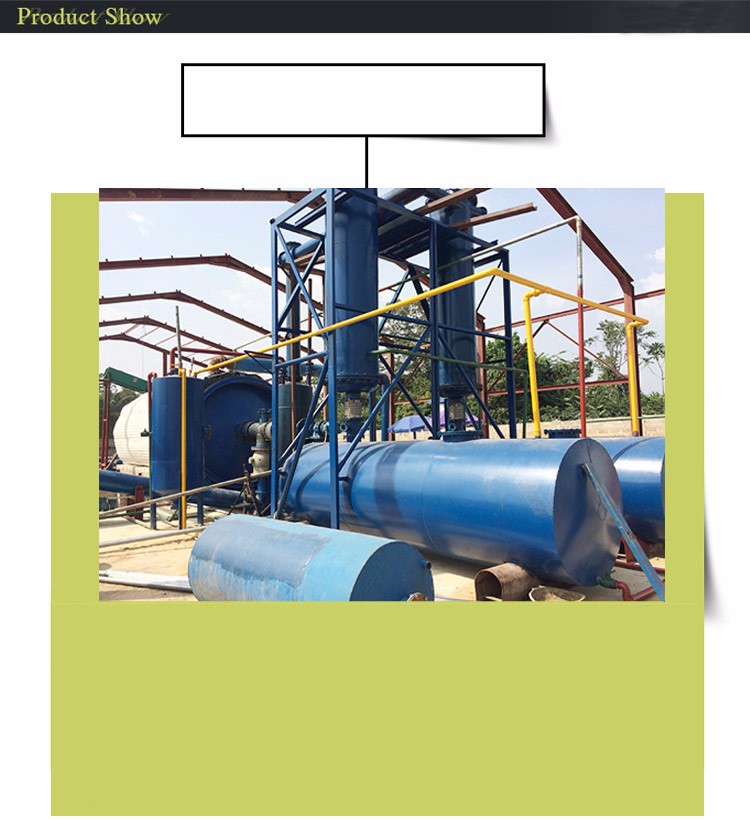 Waste Pyrolysis Plant
♦ Basic configuration with mature manufacturing, installation and operating
   technology.   
♦ Rotary running that ensure the heating is efficient and energy saving.
♦ Convenient to feed material.
♦ High efficient tubular condensing system.
♦ Last heat insulating layer with longer service time..
♦ EU standard emmission
♦ Energy recycling and reusing design to save fuel
Put the raw material into the reactor, and then heat the burner. The oil gas from reactor will be separated in the manifold. The heavy oil gas will drop down and be stored in the slag oil tank, while the light gas will rise up to the condenser. After cooling, gas turns into liquid and flows to the oil tank. The remained gas that cannot be liquified will enter the hydroseal, and then return to the burner to be burnt after the edulcoration and desulfuration.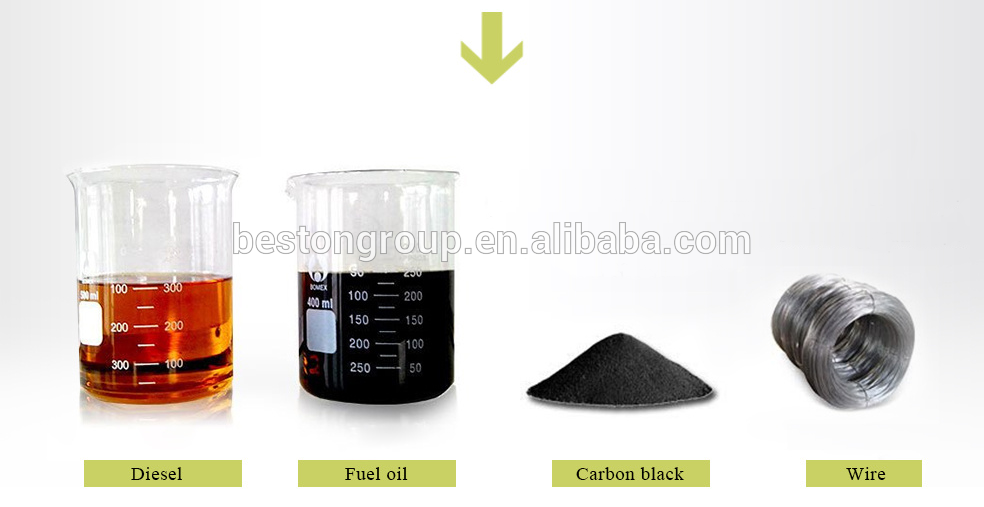 Available raw materials of pyrolysis plant
| | |
| --- | --- |
| Raw materials  | Oil yield rate |
| PE | 95% |
| PP | 90% |
| PS | 90% |
| Plastic cable | 80% |
| Submarine cable | 75% |
| PC | 70% |
| Plastic bag | 50% |
| ABS | 40% |
| Leftovers of parper | Wet 15-20%, dry 60% |
| big tire  | 45-50% |
| small tire  | 35-40% |
| house garbage  | 35-50% |
| rubber cable  | 35% |
| sole | 30% |
| PVC | 30% |
| PET | NA ( Recommend plastic pellet machine) |
The serial number

Name

Use

1

Tyre oil

(1) Can directly to sell

(2) Can use our distillation equipment for gasoline and diesel

(3) Can be used as a fuel

2

Carbon black

(1) Can directly to sell

(2) Can use carbon black refining equipment to make fine carbon black

(3) Can use the carbon black particle granulation equipment

3

Scrap steel wire

(1) Can directly to sell

(2) Can use hydraulic baling press do produce piece of easy transportation

and storage

4

Oil gas

(1) Can pass gas spray gun used as fuel

(2) Excess gas can be storage system storage
 Note:
Different materials can use the same machine, mainly the cracking process is a little bit different,
Our technician will be sent to guide your operation,installation and commissioning for free.
We can test the oil yield rate for if you send us the raw materials you need to process.
 3D layout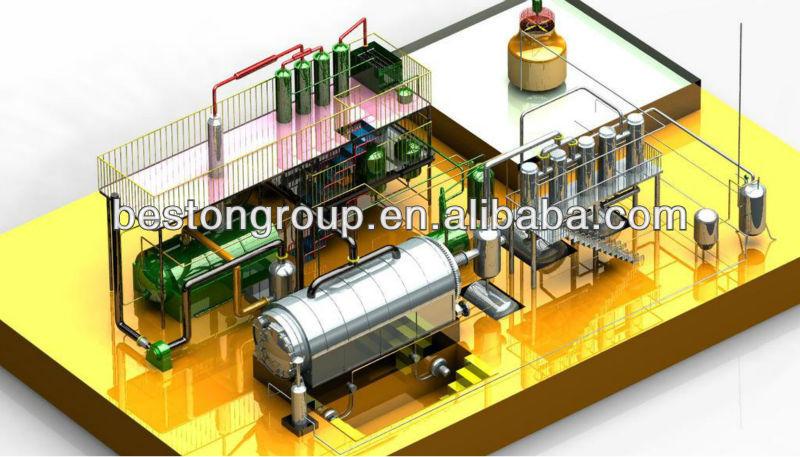 Technical 

parameter
Model

BLJ-6

BLJ-10

BLL-16

BLL-30

BLL-40

BLL-50

Daily capacity

6MT

10MT

20MT

30MT

40MT

50MT

Working method

Batch

Semi-continuous

Fully continuous

Operating pressure

Constant pressure

Reactor rotate speed

0.4turn/minute

Not rotary type

Total power

24kw

30kw

54kw

53.6kw

62kw

84kw

Reactor size

D2.2*L 5.1m

D2.8*L6.2 m

D2.8 *L7.1 m

L12.5*W2.2*H2.5m

L12.5*W2.2*H2.5m

L12.5*W2.2*H2.5m

Space for machine(L*W*H)

20*10*10 m

25*15*10 m

25*15*10 m

20*15*10m

33*15*10m

33*15*10m
1.The first in the world to have created the new heating structure that combined the advantages of burning the reactor and heating the main reactor by hot air.
2.The technology of avoiding the reactor of being burnt through by reforming the furnace, which will lengthen the life span of the main reactor for 2 to 3 years which saves quite amount of money for customers to maintain and update the continuous and batch used tire pyrolysis equipment, and reduces the rate of depreciation 
3.The technology of improving the oil output by another 5% with the same machine.
   Environmenttal friendly

1.Totally sealed reacting system, and slag discharging system, which prevent odor and ash releasing out.
2.Extra gas purifing system, remove chemical and impurity then recycle it into furnace for heating, clean and energy recycling. 
3.6 generation hot some cleaning system, configured with filtering tank, liquid cleaning chamber, liquid sprayers and chimney, make emission meet EU standard. Please refer the scene picture of our Turkey factory:
   Energy saving

1.Latest heating system, combined hot smoke heating and fire directly heating. improve heating effeciency for 20% and save energy for 15-20%. 
2.New designed reactor case, with particular thermolith and asbestos cover. Increase life time and make reactor get heated uniformly. 
3.Specific reactor case cover, keep kcal from transmited to air in workshop. 
 Operation security measures

1.Auto alarm system for over temperature and pressure. 
2.Auto pressure releasing system to keep emergency situations into safty. 
3.Auto operating control panal keep operator from high risk area.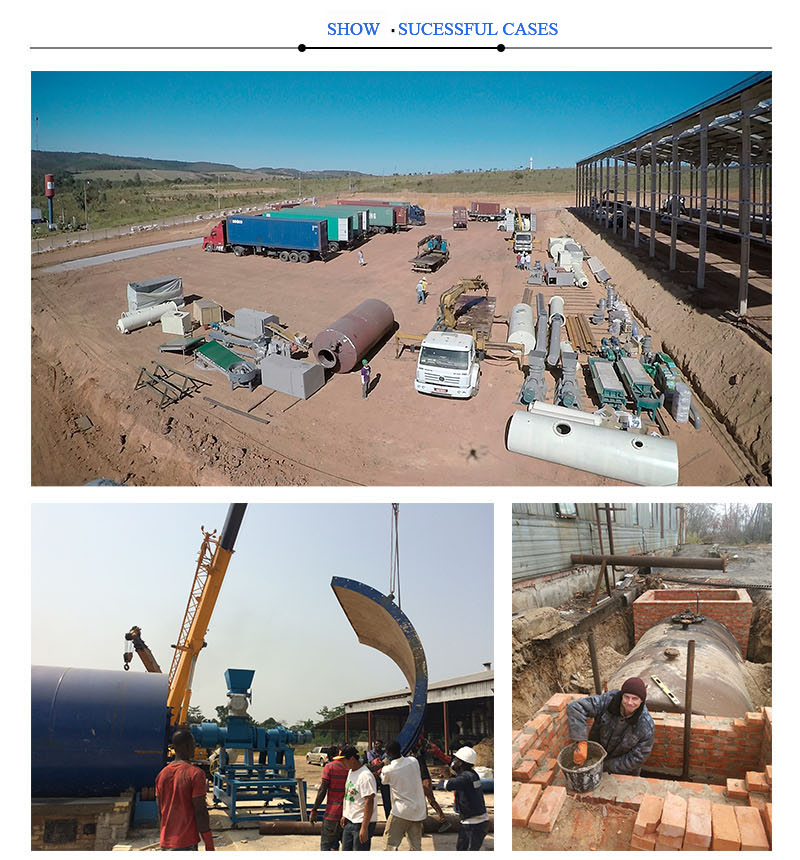 We have over 300 running production line in the world market: India, Malaysia, Philippines, Indonesia, Thailand, Vietnam, Pakistan, South Africa, Jordan, Turkey, Poland, Russia, Canada,South Korea, Peru, Colombia...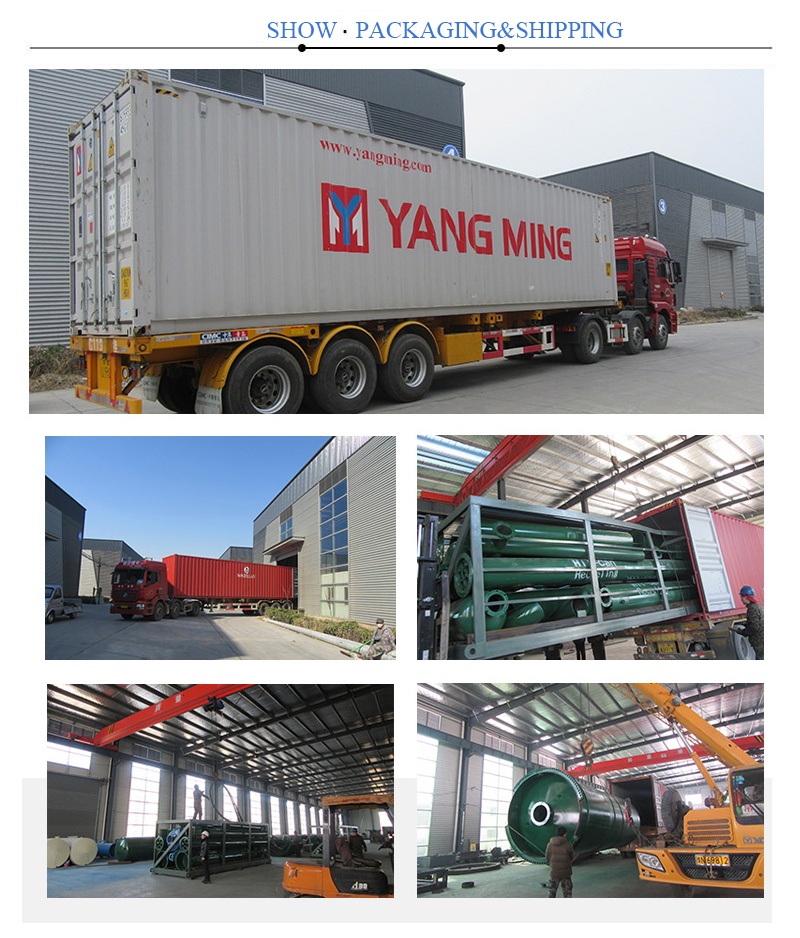 We will provide the most reliable, safest mode of transportation, in order to makemachine arrived destination timely.Installation and training-our company will send one technician for each set of machine for guiding your installation, testing the machine and training your workers.
1.Design the installation drawings according to your site
2.1 year warranty, engineers available to service at any time.
3.Periodical call visit, to make sure there is no problems of the equipment.
4.Design specific maintainence program according to different situation of your plant.
5.For each set of waste plastic pyrolysis oil refining system, one technician will be sent to guide your installation, test the machine and train your workers. Besides, we will provide one month's service for free. After one month, the salary for the technician will be USD65.00/day.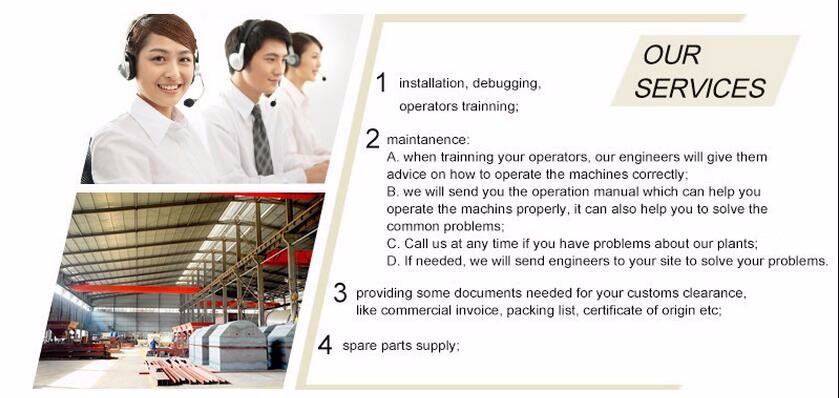 We Beston (Henan) Machinery Co., Ltd. is a professional manufacturer and supplier of waste tire, rubber, plastic pyrolysis plant , and waste oil , crude oil , used oil. waste engine oil refining or distillation equipment and carbon black processing maxchine with 15 years experience.
Hope to have the chance to cooperate with you in the near future.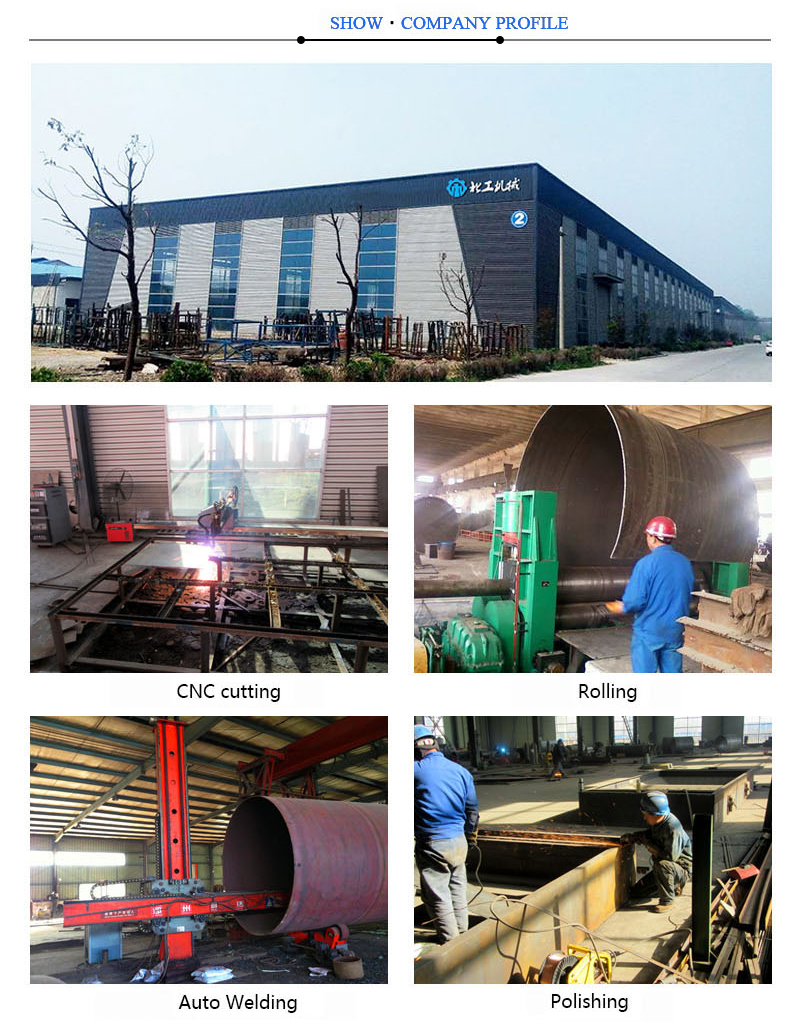 Certifications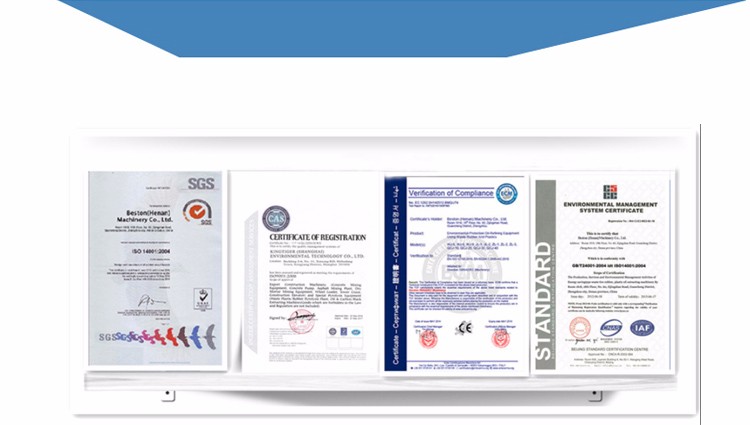 Q: How you can clean the emission to meet environmental standard?
A: 3 layers of dedusting system-alkali liquor wasing+ceramic filtering+alkali liquor sprayers. Extra gas from reactor will be recycled into furnace for heating, it will be cleaned by specific device before to be burned of cause. Ash and odor are also well prevented as the pyrolysis system is totally sealed, sepcially for continuous running plants.
Q: Can tire and plastic be mixed to be processed?
A: Generally, we don't recommend you to mix them. Tire and plastic need different temperature and time to be processed. If you put them together, much fuel will be wasted. Besides, the quality and rate of final oil will also change.
Q: What's the difference between continuous pyrolysis plant and intermittent pyrolysis plant?
A: They are different in the following aspects:
For the continuous type, the feeding of raw materials and discharging of slag are both automatic. While for the intermittent type, these two processes are manual.
For the continuous type, the feeding hole is very small, so the pretreating system is needed to cut the raw materials into small piece. While the intermittent type does not need this device.
The continuous plant can operate for some time without stop. While for the intermittent plant, the reactor must be cooled before the second batch.
Q: What's the usage of the Pyrolysis oil? Can it be used in vehicles?
A: (1) The pyrolysis oil is fuel oil and can be used as fuel in some heavy industry factories, such as glass factory, power plant factory, aluminum factory and so on.
(2) If you want to use the oil in vehicles, you may need the distillation plant. It can distill the pyrolysis oil into diesel.
Product Categories : Solid Waste Pyrolysis Machine > Waste Plastic Pyrolysis Machine