High efficiency 10t waste rubber pyrolisis recycling machine for sale price
Product Description
High efficiency 10t waste rubber pyrolisis recycling machine for sale price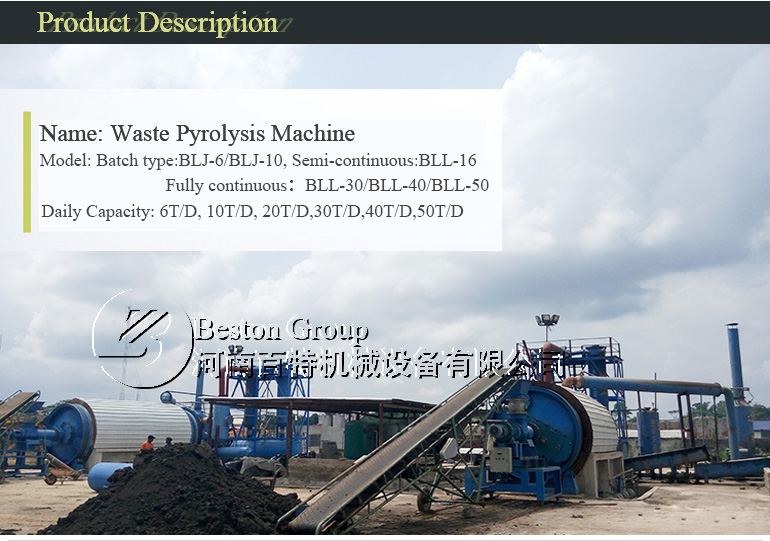 Technical Sepcification 
Model

BLJ-6

BLJ-10

BLL-16

BLL-30

BLL-40

BLL-50

Daily capacity

6MT

10MT

20MT

30MT

40MT

50MT

Working method

Batch

Semi-continuous

Fully continuous

Operating pressure

Constant pressure

Reactor rotate speed

0.4turn/minute

Not rotary type

Total power

24kw

30kw

54kw

53.6kw

62kw

84kw

Reactor size

D2.2*L 5.1m

D2.8*L6.2 m

D2.8 *L7.1 m

L12.5*W2.2*H2.5m

L12.5*W2.2*H2.5m

L12.5*W2.2*H2.5m

Space for machine(L*W*H)

20*10*10 m

25*15*10 m

25*15*10 m

20*15*10m

33*15*10m

33*15*10m
3D Drawing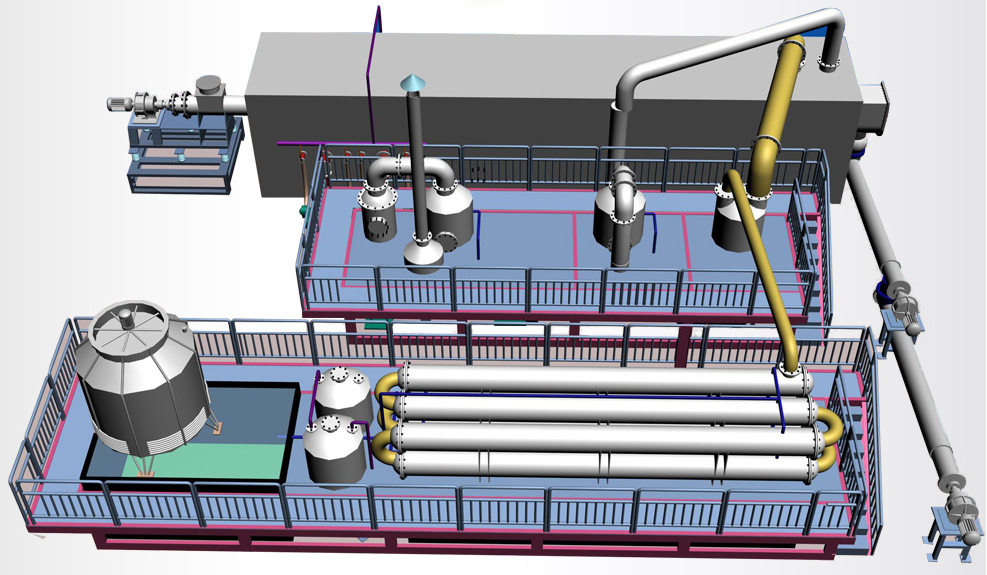 Flow Chart

Main Features 
Safety 
1. With an auto welding machine for the reactor, it can not only greatly improve working efficiency but also guarantee the quality of welding seam, thus avoid explosion caused by gas leak.
2. Professional heating treatment and x-ray detection chamber are especially for welding.
3. Professional thermometer, pressure gauge and safety valve.
4. It is dangerous to burn exhaust gas (C1 to C4) without any safety measures. In our process, it is transferred first through the safety device and a safety burning air muzzle. Before burning, we should ensure the safety of production. 
Environmental Friendly 
1. Well water de-dusting system can avoid black smoke.
2. The exhaust gas will be recycled for heating reactor, no gas pollution
3. Every junction of the reactor is in good sealing situation with professional sealing material.
Long service Life 
1. Material: Q245R or Q345 Boiler Steel Plate, thickness 16mm.
2. Welding: Automatic welding machine with heating treatment and x-ray detection will prolong the service life of
    reactor to the max.  
Energy Saving
1. Well sealing for heating system, no gas leak and saving fuel.
2. The exhaust gas will be recycled for reactor heating.  
Main Parts of Waste Rubber Recycling Pyrolysis Plant
Running Pyrolysis Plant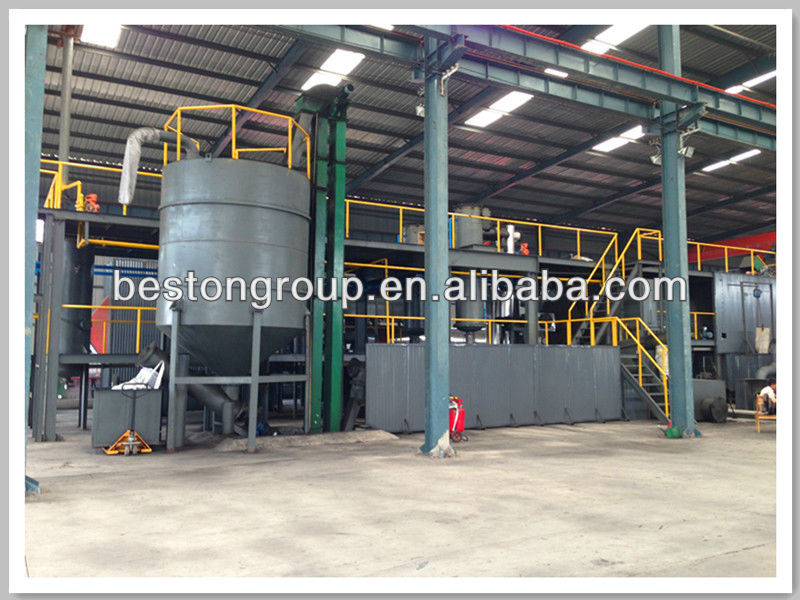 Raw Materials Feeding System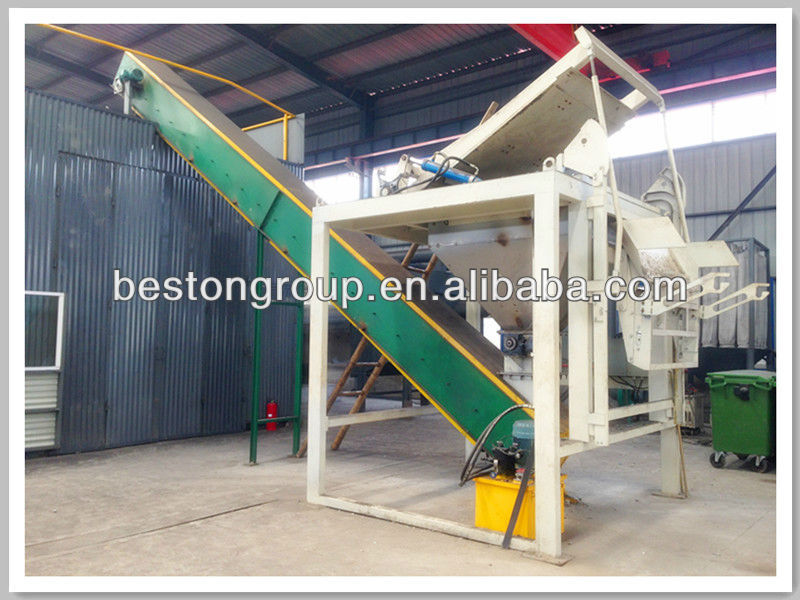 Reactor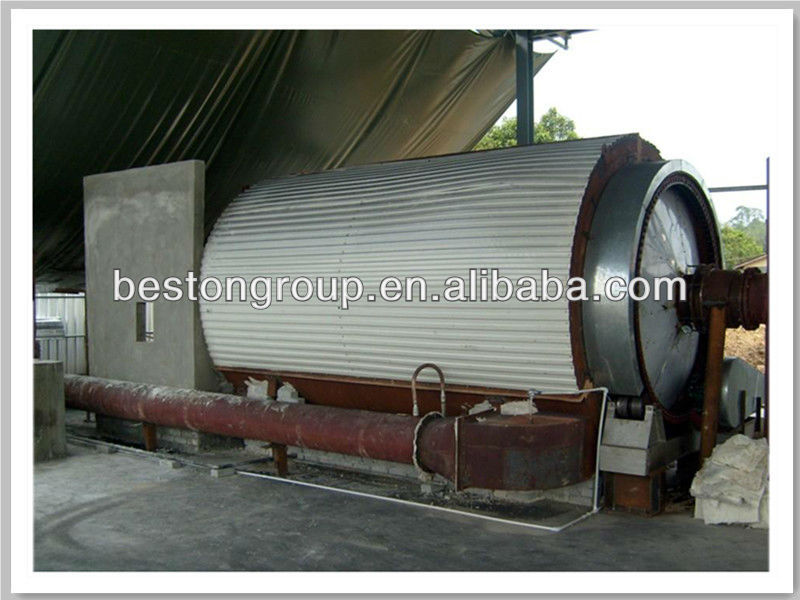 Oil Tank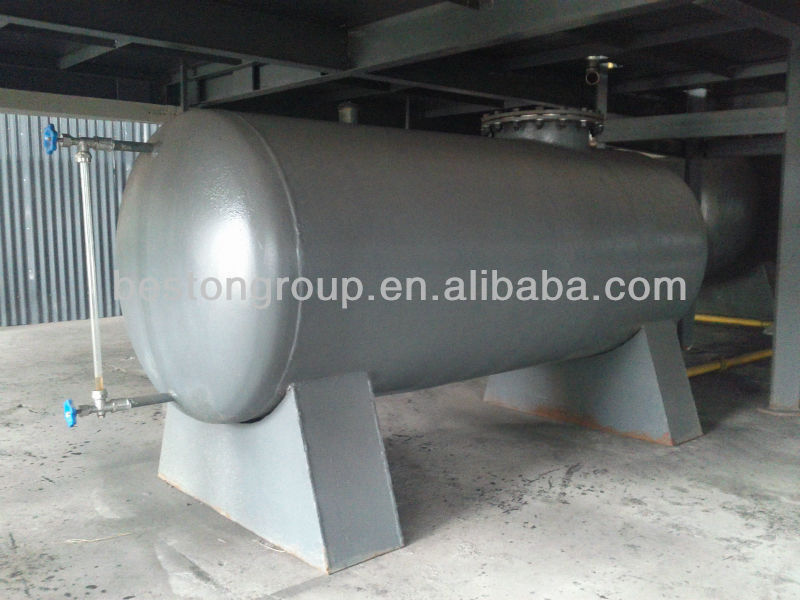 Carbon Black Storage Silo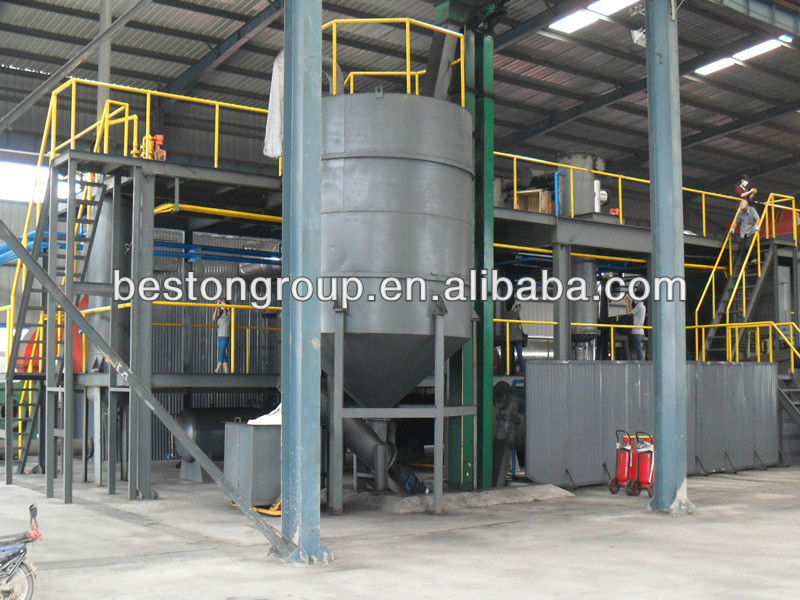 Dedust System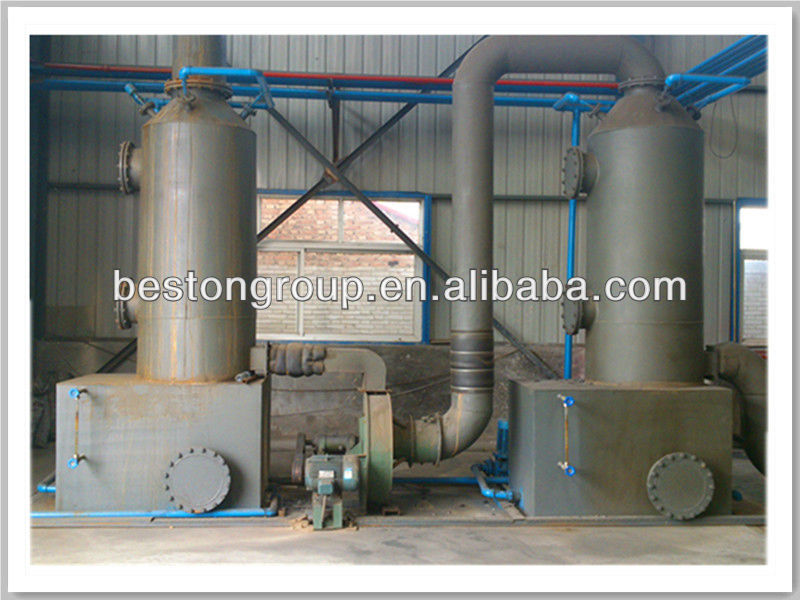 Water Cooling System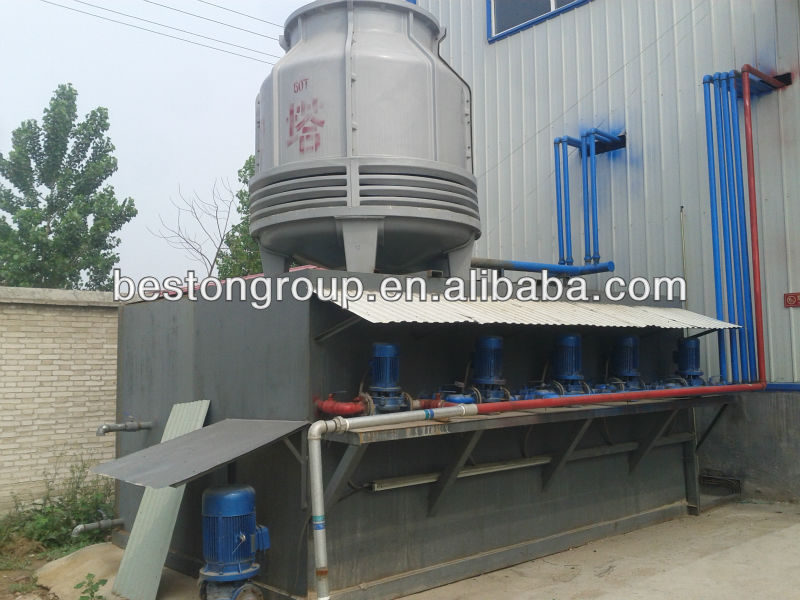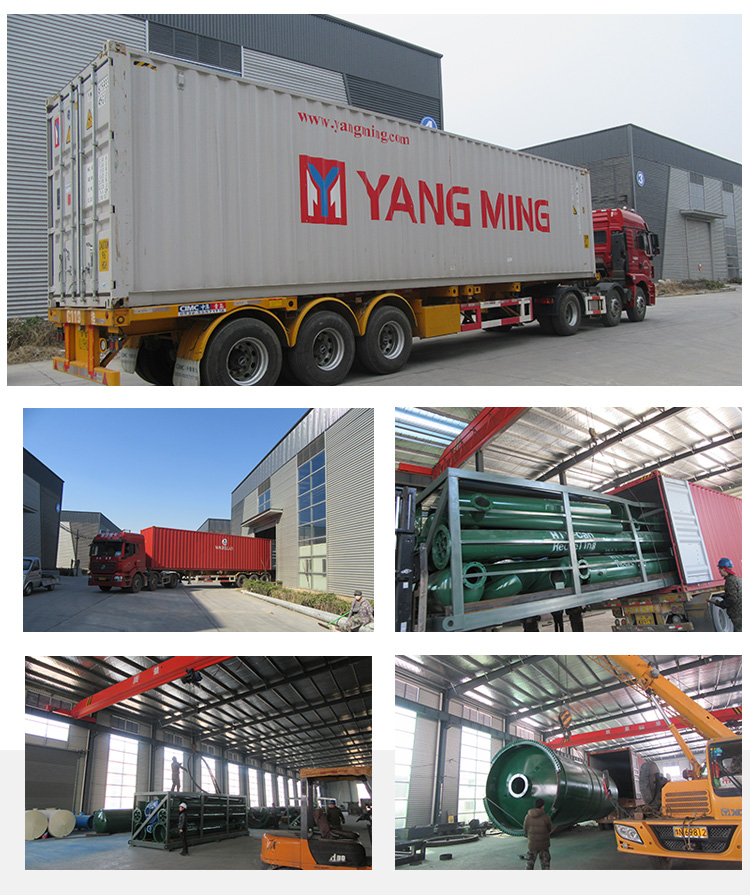 2x40 HQ are needed for BLJ-10 used tire Pyrolysis Machine
30 working days for delivery after first payment. 
Delivery time- It will be 30 days after we receive the deposit.

One year warranty from the date of receiving. The warranty equipment within warranty time, facilities failure is freely repaired or replaced by our company.

According to users' needs, after deliver equipment, we can send technical personnel to train operation, maintenance.

After the expiration, seller provide spare parts at cost price.

Seller provide free lifetime technical services.

Whether it is within the warranty period, once receiving a notification service, maintenance personnel to reach the user site in 48 hours.

Regular visits, listen to users' comments and suggestions on the service quality and product quality.
About us 
Beston (Henan) machinery Co., Ltd. is an enterprise specializing in  sludge carbonization equipment,waste pyrolysis plant, oil distillation plant and carbon black processing plant. 
Having been in this field since 1998, abundant ecperience enable us to solve your any problems ,we promise you high-end products and first-class service.
Welcome your visit and support to our Biomass Carbonization Furnace 
Hope to have the chance to cooperate with you in the near future.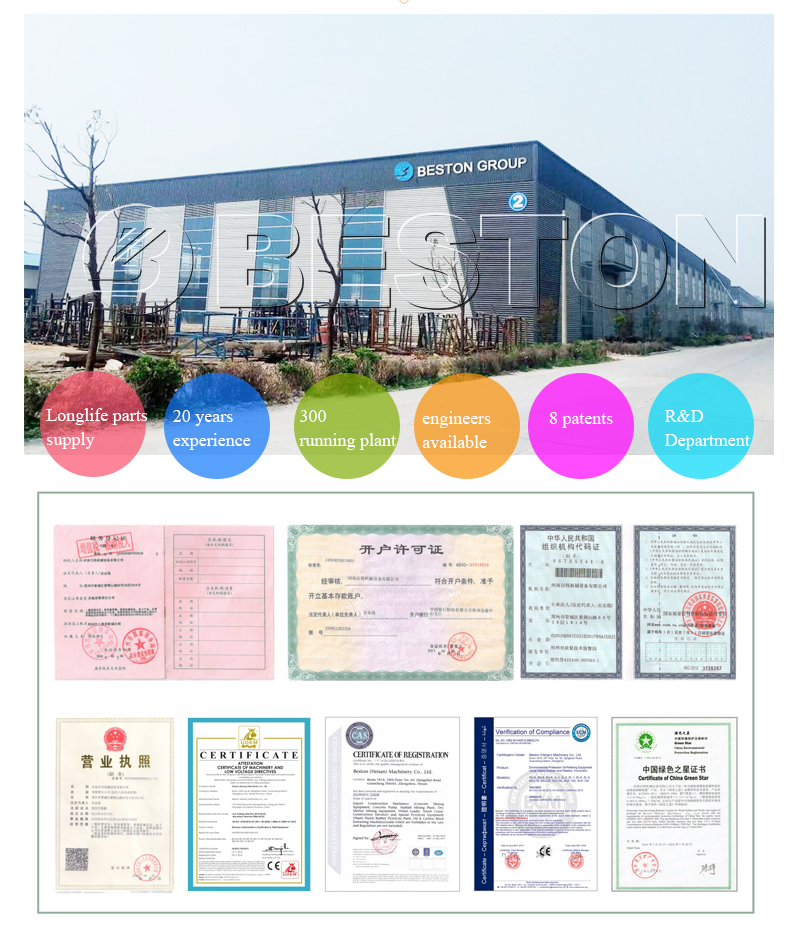 ♦Over 15 years experience in waste rubber/plastic/tyre/medical waste pyrolysis industry and used oil refinery industry
♦Over 300 running plant all over the world maket, for instance: India, Malaysia, Philippines, Indonesia, Thailand, vietnam, Pakistan, South Africa, Jordan, turkey, Poland, Russia, Canada, South Koran, Peru, Colombia...
♦Experienced engineers is available for any problems you may meet.
♦R&D Department to insure the constantly research the new technology to improve the quality and oil yield efficiency.
♦we promise provide lifelong maintainance and parts supply service for customers.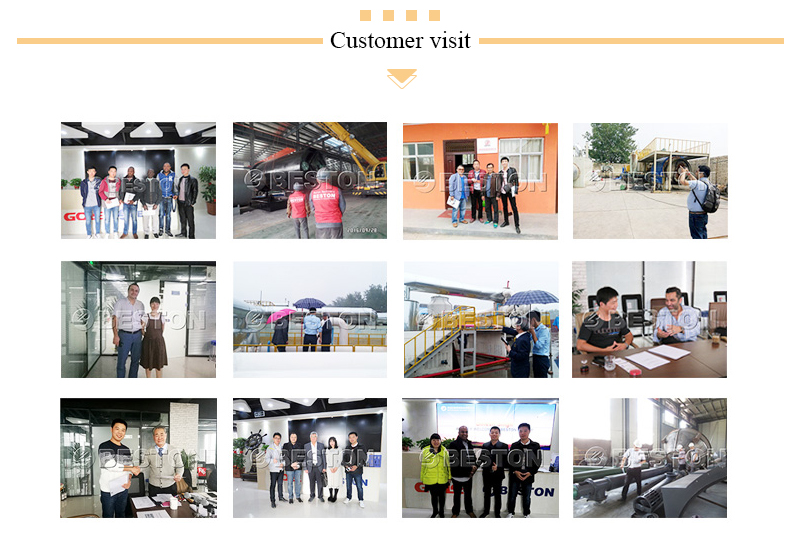 Dear, 
Appreciate to your kindly attention, for better quotation, Here we need confirm some basic information:
- What kind of raw material to process? Kinds of tyre such as car, truck, motorbike tyre and so on. Many kinds of plastic has high oil output rate such as PE, PP and others. It can also recycle rubber, medical waste, oil sludge and etc.
- What capacity do you need to process per day? We can provide capacity from 6t/d to 50t/d. 
- What end product you need to get? Crude oil, diesel oil or others?

Hope to get your reply for all other materials and models. 
High efficiency 10t waste rubber pyrolisis recycling machine for sale price
Product Categories : Solid Waste Pyrolysis Machine > Waste Rubber Pyrolysis Machine