Explosion proof hot sale continuous scrap tire pyrolysis system waste tire recycle to fuel oil with high oil output
Product Description
Explosion proof hot sale continuous scrap tire pyrolysis system waste tire recycle to fuel oil with high oil output
Basic parameters
Waste Pyrolysis Plant

Model

BLJ-6

BLJ-10

BLL-16

BLL-30

BLL-40

BLL-50

Daily capacity

6MT

10MT

20MT

30MT

40MT

50MT

Working method

Batch

Semi-continuous

Fully continuous

Operating pressure

Constant pressure

Reactor rotate speed

0.4turn/minute

Not rotary type

Total power

24kw

30kw

54kw

53.6kw

62kw

84kw

Reactor size

D2.2*L 5.1m

D2.8*L6.2 m

D2.8 *L7.1 m

L12.5*W2.2*H2.5m

L12.5*W2.2*H2.5m

L12.5*W2.2*H2.5m

Space for machine(L*W*H)

20*10*10 m

25*15*10 m

25*15*10 m

20*15*10m

33*15*10m

33*15*10m
Main working process
1.Materials are pretreated by the pretreating equipment
2.Being sent to the reactor by  feeder
3.pyrolyzing in the reactor and producing oil gas
4.oil gas in the manifold has two directions
-a little amount of it liquefies naturally and enters into the heavy oil tank
-most of it is condensed in condensers and enters into oil tanks as fluid oil
 5.The waste gas is disposed of in the dedusting system
  Flowing chart

 End products

usage of the end products
-Used as fuel in some heavy industries
-make diesel and gasoline by distillation machine
2.carbon black
-reprocessed and used as fuel
-constructing bricks with clay
3.steel wire
-Sold directly
-reprocessed
4.waste gas,ash, water
combustible gas recycles to the furnace to heat reactor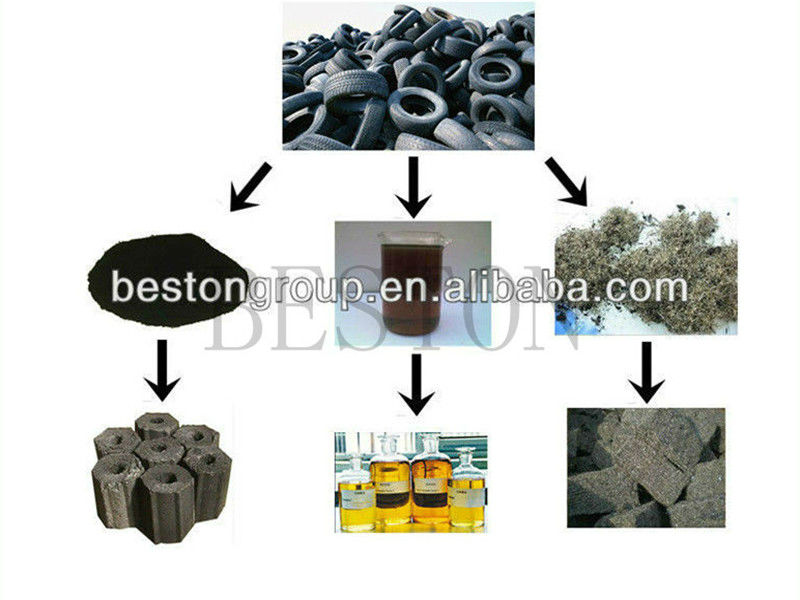 The total producing consumption
1. Power: 54kw per hour in total (but it is not every device start at the same time).
2. Cooling circuit water: less than 100m3 per hour in total (the water can be recirculated).
3. Coal for heating: 60KG coal for processing one ton tire for average.
4. Space for machine: 10m*40m*10m (width*length*height) (the smallest space).
5. Workers: 4 to 6 workers which can be divided by two groups.
After-sale service 
Installation and Training
Our company will send one technician for each set of machine for guiding your installation, testing the machine and training your workers. 
 Products Warranty
We can design specific maintainence program according to your different situation.
Main features
 environmental friendly
 1.In the dedusting system, three steps are used to dedust the hot smoke from reactor, which ensures the released gas is pollution-free
 2.The exhaust gas will be directly recycled for heating reactor, no gas pollution
 3.All parts are well-sealed, so air leakage can be avoided.
safety
1.Hydroseal and Vacuum system will prevent exhaust gas from going back to condensers and reactor.
2.Equipped with thermometer, pressure gauge, safety valve and electric control system
3.Waste gas burner can prevent over-pressure of the reactor
 high quality and output of oil
 1.Improving the oil output by another 5% compared to the same machine
 2.Adopting new type of condensers which can further ensure and improve the oil yield efficiency 
 3.The catalyzer is made from 24 chemicals,which not only reduces sulfur content and density of oil, but also improves its flavor and color. 
Some parts of the  scrap tire pyroysis system 
Automatic feeder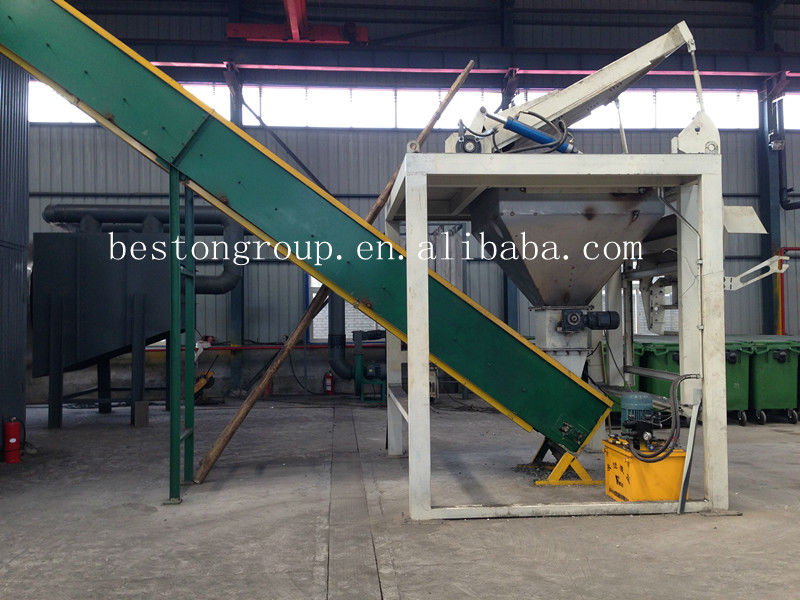 reactor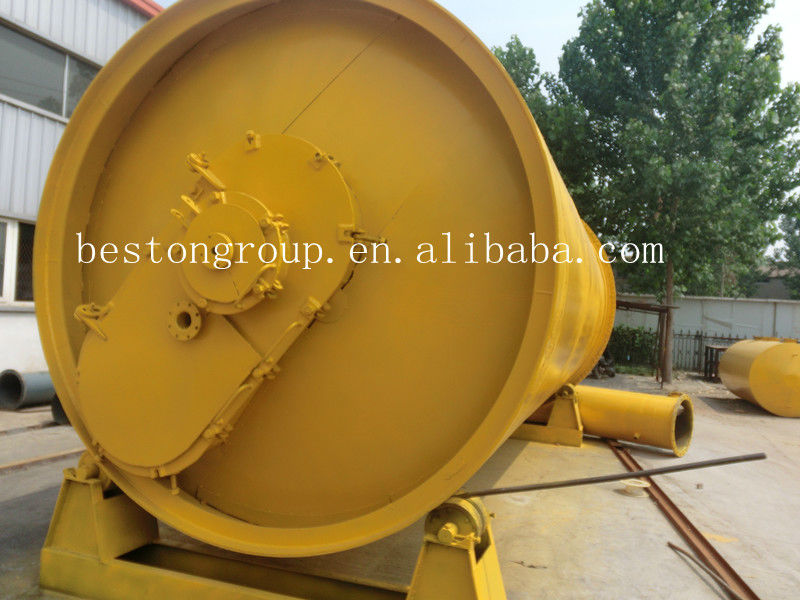 oil tank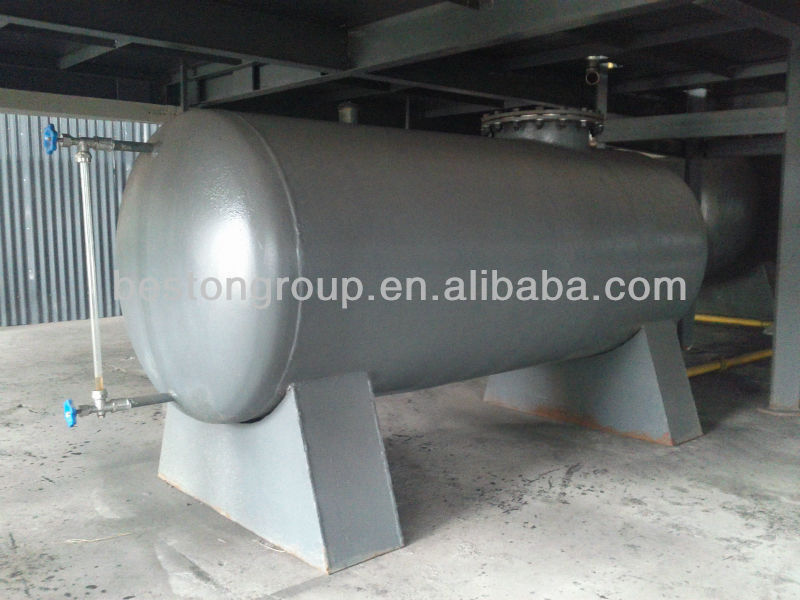 dedusting system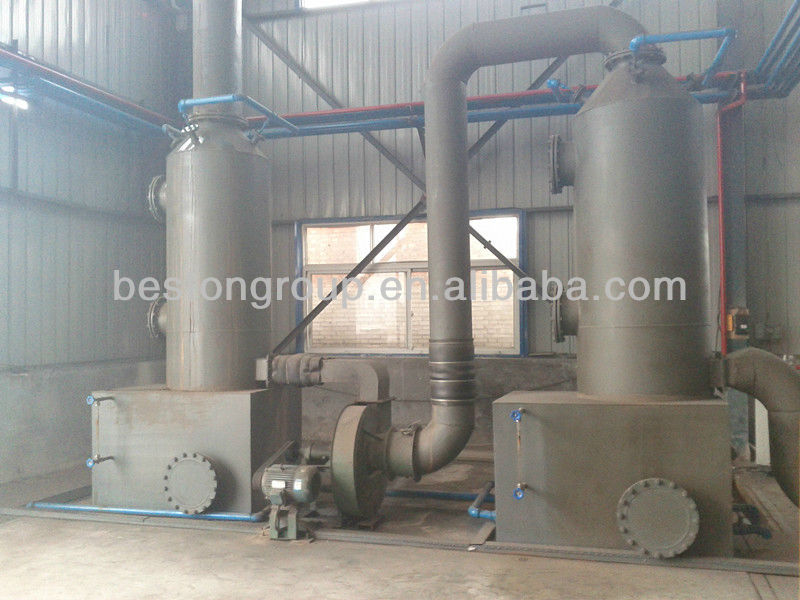 cooling tower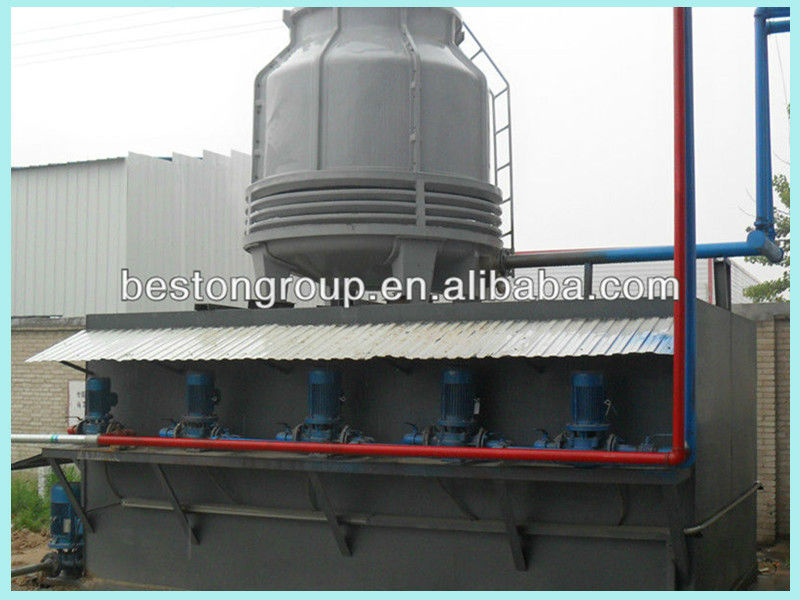 end products
      Explosion proof hot sale continuous scrap tire pyrolysis system waste tire recycle to fuel oil with high oil output
Product Categories : Solid Waste Pyrolysis Machine > Waste Tire Pyrolysis Machine